Try gourmet mushroom foraging in the French Alps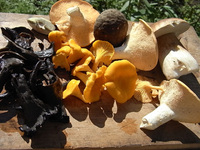 Delve into dark alpine forests to discover the hidden world of mushroom foraging this Autumn, with five-star chalet Ferme du Ciel's gourmet short break holiday.
A new package offered by five-star Ferme du Ciel allows fine food enthusiasts to explore mountain forests foraging for mushrooms in Samoëns, France. This gourmet package includes three nights' accommodation at five-star Ferme du Ciel, two days' mushroom hunting with a qualified mountain guide, and a cooking lesson with a local chef who'll teach you to cook local dishes with the mushrooms you've picked.
A beloved national pastime for the French, mushroom foraging takes place from September until late November each year and is a great way to enjoy the spectacular autumnal forests. In Samoëns, cèpes, morilles, chantrelles and boletes thrive in the damp, cool mountain air – also perfect weather for snuggling up beside the fire each evening. Just an hour from Geneva airport, this pretty medieval village is easily accessible yet feels entirely remote.
Set in a farming hamlet just outside of Samoëns centre, Ferme du Ciel ('The Farm in the Sky') is a beautifully renovated 350 year-old barn. The chalet offers six deluxe ensuite bedrooms sleeping up to 18 people very comfortably, along with an expansive modern living space and all the trimmings, including sauna, Jacuzzi and spacious Italian-tiled bathrooms loaded with Molten Brown goodies. Great food is an important part of the chalet's sophisticated package, and their in-house professional chef uses fresh local produce to prepare multiple-course evening meals in harmony with an extensive wine cellar.
Samoëns' fungal 'fruits of the forest' are highly prized local delicacies and good mushroom picking spots are closely guarded secrets amongst locals. You'll rely on your expert mountain guide to lead you far off the walking paths and into the forests to find them, and you'll be taught about different varieties and which are edible. Returning to cosy chalet Ferme du Ciel with your bounty, you'll have the chance to cook them up in rustic French dishes with the help of an expert local chef.
Tucked away in one of France's most spectacular natural reserves, in the midst of alpine pastures, deep forests and soaring peaks, Samoëns is the ideal place to experience the French passion for mushroom foraging, and this autumn Ferme du Ciel allows you to treat yourself to a stylish gourmet short break.
Gourmet Mushroom Foraging at Ferme du Ciel
Five-star accommodation + breakfasts
2 evenings of chef-catered meals at the chalet
2 days walking with an English speaking mountain guide
A lesson on 'cooking with mushrooms' at the chalet
3 night short break £395pp (stay can be extended – please enquire)
There are also a range of physically and mentally challenging sports available in Samoëns for those keen to make the most of their time in the mountains. Guests can try rock climbing, abseiling, canyoning, white water rafting, hydro-speeding, caving, parapenting, mountain biking, glacial hiking and more. Staff at Ferme du Ciel will arrange bookings and transport to your preferred activities, and you can relax afterwards with a gentle swim, round of golf, massage ... or a champagne on the terrace if its more your style. Whatever your adrenalin-fix, well-appointed Ferme du Ciel is the ideal base from which to enjoy it in comfort.
For more information, visit fermeduciel.com