Allied Bakeries delivers daily bread with line-up of new DAF trucks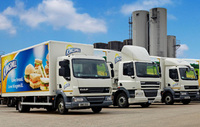 One of the UK's leading bread makers, Allied Bakeries, is undergoing a significant fleet renewal programme following the purchase of 105 new DAF commercial vehicles. Purchased outright from supplying DAF dealer Imperial Commercials in Birmingham, the large order comprises of five 7.5-tonne LF45s, 11 14-tonne LF55s, 66 18-tonne LF55s and 23 CF85 tractor units.

For its 7.5-tonne LF45s, Allied Bakeries has specified the ultra-efficient 4.5-litre 160hp Euro-5 EEV PACCAR engine. As the trucks will be used predominantly on short, urban delivery routes, they come fitted with a six-speed AS-Tronic gearbox for better fuel consumption and driver comfort in congested city streets. For further improvements in fuel economy, Allied has fitted engine idle shutdown, which cuts power to the unit when it is stationary for a given period of time.

Christopher Davies, Fleet Engineer at Allied Bakeries, said, "We traditionally run our vehicles on a 10-year replacement cycle so they need to be reliable and deliver the goods no matter what. The back-up service and support that we have received from DAF was a key consideration in purchasing DAFs and the vehicles are popular with our drivers for their comfort and ease-of-use – especially with the AS-Tronic gearbox. All the new models have been optimised for fuel efficiency and will subsequently help Allied Bakeries to reduce its carbon footprint from transport activities".

For larger distribution routes, Allied will deploy the 11 LF55 14-tonne and 66 LF55 18-tonne rigid vehicles powered by 180hp and 220hp EEV engines respectively, and like their smaller LF45 siblings, all 77 LF55s will come with AS-Tronic. However, the fuel-saving measures don't end with the highly efficient driveline, as each of the 14-tonners have been fitted with 28ft Don-Bur Teardrop aerodynamic bodies, while the 18-tonners will benefit from the larger 32ft sleek bodywork.

Davies continues, "After conducting trials with the Don Bur Teardrop bodies in 2010, they proved themselves in helping reduce fuel consumption versus the normal box bodies and trailers. Any new single deck trailers and trucks above 7.5-tonnes GVW in Allied's fleet now come specified with the Don Bur aerodynamic product".

Tasked with delivering products from any one of Allied Bakeries' six national distribution depots to various large supermarkets will be the line-up of new DAF FT CF85 410hp Day Cab tractor units. The vehicles have been customised to Allied's requirements for both efficiency and safety. Davies said, "We've specified red seatbelts on the tractor units to identify from outside the cab that our drivers have their seatbelts on at all times; not only for their own safety but for other road users too. Along with that there is a 'white noise' reversing alarm, dual-height Fontaine fifth wheel and the engine-stop system to avoid excessive vehicle idling".

The new vehicles will form part of Allied Bakeries' 800-strong truck fleet, with all expected to be in service from mid July this year.