Aruba on a budget: Top 10 money-saving tips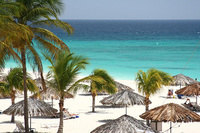 Always thought that holidaying in Aruba is expensive? Not necessarily - just follow these top 10 money-saving tips.

1. Avoid the winter peak season: Aruba's year-round sunshine makes it an ideal destination for those seeking to escape the winter blues - and this is when hotel prices on the island go up! Save yourself some pounds by travelling in the summer: you will still get the average welcoming temperature of 28 degrees - and as Aruba is just outside the hurricane zone the sun is guaranteed to always shine!
2. Spa treatments, candlelit beach dinners, water sports: enjoy the most amazing experiences courtesy of your friends! Planning to celebrate a special occasion on the island? Aruba's first-ever online celebrations registry offers visitors a variety of options to create their perfect holiday. Simply set up your own online registry and select your favourite accommodation and extras; friends and family can then log on and type in the guests' names to find a variety of gift choices that they can get for you. It only takes a few minutes!
3. Enjoy a guided hiking tour by a park ranger for as little as £1: Aruba's Arikok National Park takes up almost one fifth of the island's landmass and is home to a number of indigenous species of nature and wildlife, as well as historical caves with ancient Indian paintings. You can have a guided tour with a park ranger who will make sure you learn about sites that normally you wouldn't see. Tours cost $25/£16 for a group of up to 15 people (that is £1.05 per person!), making it even greater value for money.

4. Discover Aruba's diverse cultural heritage for free: It's Thursday evening and you're in San Nicolas, Aruba's second largest town. The main street closes to traffic, a number of colourful booths pop up and soon music starts to play. It's time for Carubbian, Aruba's new weekly event that celebrates the traditions of over 80 nationalities that live on the island. Sample a diversity of cuisines, enjoy a parade of local entertainers, get traditional handicrafts and take part in fun activities for all the family. The best part? Entrance to Carubbian is free.

5. No admission fee for Aruba's most well known sights that you will see on every postcard! These include: the picturesque Our Lady of Alto Visto chapel on the northern side of the island; the ruins of the historic Bushiribana Gold Mill; the remains of the much loved Natural Bridge that collapsed in 2005; and of course Aruba's icon, the much photographed divi-divi tree at the end of the Eagle Beach, near Amsterdam Manor hotel. Now all you need is a good camera!

6. Take a tour at the Balashi Brewery and enjoy a drink on them: Balashi is the only beer brewed on the island and is enjoyed, preferably ice cold, by locals and visitors alike. Now you can go behind the scenes and join one of the tours that take place at the brewery every day, where a guide will lead you through a specially made gangway above the production area. The tour will only set you back $6/£3.80, which also includes one free drink at the open-air bar.
7. Do it as a local and take the bus: Aruba's bus system is easily the island's most budget-friendly form of transportation - and is also very reliable! Buses run across the island, especially along the hotel area of Eagle and Palm beaches, the main towns of Oranjestad and San Nicolas and, of course, the airport. Most routes run from 6am until midnight and one-way fares start at $1.15/£0.70 - the only catch is that you will need to have the exact change!
8. Entertain kids at the Donkey Sanctuary - you only need a carrot and an apple! They are sweet, stubborn and have existed in Aruba for more than 500 years. The Donkey Sanctuary is completely run by volunteers and aims to protect the remaining wild donkeys on the island (currently a population of 90 from a record low of 20 in the 1970s). Get there early so children can help at feeding time - there is no admission fee, however donkeys love apples and carrots so feel free to bring some along!
9. A visit to Aruba's museums will cost you (almost) nothing - if you don't want to spend all day on the beach, that is! There is no entrance fee at the island's famous Aloe Museum and the brand new Archaeological Museum, the Historical Museum will only cost you $1.15/£0.70, whereas the Numismatic Museum charges $5/£3.20 for adults (free for children) but this also includes a souvenir coin.
10. Award winning beaches open to everyone: Aruba's seven-mile strip of Eagle and Palm Beach may be dotted with hotels but it will not cost you anything to enjoy what was voted earlier this year as one of the top three beaches in the world by TripAdvisor. Most hotels provide cabanas and lounges for their guests, however both Eagle and Palm beaches are open to the public.

For more information, visit aruba.com.