Crazy About Kenya artist to exhibit in London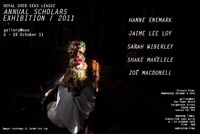 Crazy About Kenya is a grassroots project featuring 23 talented Kenyans. The group works in partnership with adventure specialist, Acacia Africa to generate a positive image of the country via music and art. Currently, the tour operator is working with artist, and Royal Over-Seas League Annual Scholarship winner, Shake Makelele, who will be exhibiting from 06-23 October, at gallery@oxo, as part of the Royal Over-Seas League Annual Scholars Exhibition 2011.
Heath Ashcroft Marketing Director at Acacia Africa, comments "While we're continuing to support cultural events in Nairobi, we also aim to support the achievements of our Crazy About Kenya partners. Shake brings Kenya to life through his artworks, and in light of the recent news we're hoping that his positive outlook will encourage more people to visit."
Shake sees his art as an expression of his views and creativity, Masai-land, "especially the savannah" providing the inspiration for many of his paintings.
Shake Makelele, comments "Visiting Kenya is the experience of a lifetime. Travellers should just come and share their experience with the people they meet here, and wherever they go. Any cultural sharing and comparison is a good thing - that way we will be able to make the world a better place for us all."
When asked about his dream safari destination, Shake replied "I would love to be in the Masai Mara - seeing the animals migrating and crossing the Mara River."
(Save £255pp) Acacia Africa is currently discounting its 41-day Cape Town To Kenya overland expedition. Safaris in the Serengeti, Chobe and Etosha National Parks are major highlights on the trip, the itinerary ending in the cultural capital of Nairobi. Only £1,020pp (Full tour price excluding discount £1,275pp) + local payment from £949pp, including camping accommodation, transport, most meals and services of a tour leader/guide. Excludes return flight. Guaranteed departures 29 October. Starts Cape Town – ends Nairobi.
One destination to watch, Kenya was recently listed as one of the best value destinations according to Post Office Travel Money's 2011 Long Haul Holiday Report – the UK pound buying over 19% more Kenyan shillings than a year ago.
Acacia Africa regularly publicises events on the Crazy About Kenya Facebook page including, album launches, gallery openings and poetry nights in Nairobi - their aim to interest youth travellers in the cultural side of the Kenyan capital.
The Royal Over-Seas League Annual Scholars Exhibition 2011, will be held at London's OXO Tower from 06-23 October. (gallery@oxo, Oxo Tower Wharf, Bargehouse Street, South Bank, London SE1 9PH), and will open daily, from 11am-6pm. The event is an international showcase for artists from all over the commonwealth, all of whom have undertaken a month long residency at the Patrick Allen Fraser Foundation, Hospitalfield in Arbroath, Scotland.