Celine Dion launches her 'Signature' scent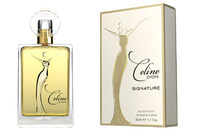 The latest fragrance from Celine Dion embodies the legendary artist's enduring connection to her loyal fans. The scent is an elegant classic with modern appeal. With notes of Mimosa Blossom, Juicy Gauva and Pink Lady apple, the fragrance mirrors the unforgettable nature of Celine herself. £20.95 for 50ml.
As memorable and timeless as the singer herself, Celine Dion Signature is an elegant, classic scent with modern appeal.
"Creating the Signature fragrance allows me to reach my fans in a completely different, yet very personal way." Celine Dion
Signature opens with one of Celine's favourite notes—Mimosa Blossom— a sparkling burst of Juicy Guava and Pink Lady Apple. The fragrance unfolds to reveal a sophisticated floral bouquet of natural Jasmine, Rose Essence and Magnolia Blossom. For lasting appeal, a base of Sensual Musk layered with rich Amberwood and alluring Sandalwood gives the fragrance a classic quality, mirroring the unforgettable nature of Celine herself.
Top Notes: Mimosa Blossom, Pink Lady Apple, Juicy Guava
Middle Notes: Indian Jasmine, Rose Essence, Magnolia Blossom
Base Notes: Sensual Musk, Amberwood, Sandalwood
For more information, visit celinedionbeauty.com.