Pixie Lott scores track time with Citroen DS3 Racing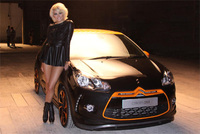 British pop starlet Pixie Lott is continuing her musical relationship with Citroen. The triple-platinum selling singer-songwriter takes the special edition DS3 Racing for a spin in her new music video for single What Do You Take Me For.

Featuring U.S. hip-hop artist Pusha T, the new track, out 7 November, is taken from Pixie's forthcoming second studio album, Young Foolish Happy. The first single, All About Tonight, debuted at number one in the UK Singles Chart – Lott's third UK number-one.

Directed by Declan Whitebloom, the video is a high-energy sequence of contemporary dance with both Pixie and Pusha T putting their best feet forward in an explosive and upbeat performance.

Pixie fans wanting to be among the first to watch the video can head to Citroen UK's Official Facebook page (facebook.com/citroenuk) on Friday 7 October.

Marc Raven, Citroen Communications Director, commented: "Citroen's association with Pixie is a great way to introduce DS3 to a younger generation of music lovers. Having the video on our Facebook channel is also a fantastic way to reward our loyal fans – almost 70,000 of them and still growing. The new single is a stand-out track, full of energy and fantastic performances – the ideal environment for DS3 Racing."

Developed by WRC winning team Citroen Racing, the special edition DS3 Racing fuses sporting pedigree with bold styling, racing inspired design, an uncompromising choice of premium materials and extensive equipment specification.

The turbo-charged 207hp engine delivers a 0-62mph time of just 6.5 seconds, and at the same time is environmentally responsible with 44.1mpg fuel efficiency and just 149g/km CO2emissions.

Pixie Lott is a 20-year old multi-award-winning artist from London. She rose to fame with her June 2009 debut single 'Mama Do (Uh Oh, Uh Oh)', which went straight to number one in the UK charts. Her debut album produced five consecutive Top 20 singles. In February, Pixie was awarded Hottest Female in the 2011 Virgin Media Music Awards.