No spa like a snow spa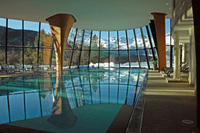 All too often, people seem to think they have to make a decision between a ski and a spa break, when in reality they can enjoy the best of both worlds in one fell swoop. Aside from cheese and chocolate, Switzerland is as famous for its mountains and its spa resorts making it the perfect location for a winter wellness holiday.
Take Grand Hotel Kronenhof, Pontresina as an example. Here, under an abundance of sunshine, guests can enjoy the 350km of the Engadin-St Moritz ski area, at altitudes of between 1,800m and 3,300m guaranteeing snow, before retreating to all 2000 square metres of The Kronenhof Spa to enjoy some peace and quiet. Or perhaps some of the family will choose to spend all day ski-ing, while others remain at the hotel in the swimming-pool, hydrotherapy pool, saunas, steam, flotation room and Kneipp baths, before enjoying a bit of meditative silence while watching the flickering log-fire flames in the relaxation room.
Grand Hotel Kronenhof is introducing some new treatments and packages for the winter 2011/12 season that will definitely help ease aching joints after a hard day on the slopes, and help attract those who like to both ski and spa.
For example, the Spa's Mud Therapy programme includes a Full Body Massage with Mud & Marmot Massage Milk (50 minutes, CHF130/approx £90) that improves blood circulation and has anti-inflammatory effects – perfect after a first day on the slopes, when muscles are used that haven't been used since the previous season!
From 6 to 18 December 2011 and from 9 to 19 January 2012, Grand Hotel Kronenhof is offering a "Winter Special" package that is valid for between two and five nights, which includes a delicous buffet breakfast and a set menu dinner daily, as well as a 30% discount on a ski pass for the relevant number of days. As an added bonus, guests receive unlimited access to The Kronenhof Spa and a 10% discount on all treatments. A two-day package starts from CHF535 (approx £380) per person sharing a double room.
Meanwhile those who simply want to relax while others in the group ski, can take advantage of packages such as the "Break Away", which includes three nights' accommodation, a sumptuous breakfast buffet and gourmet dinner daily, unlimited access to The Kronenhof Spa, a 20-minute relaxing alpine wild herb bath, a 25-minute regenerating body wrap, a 50-minute Kronenhof anti-stress massage, a 60-minute Carita Express facial for ladies or a 60-minute personal training session for men and a daily Fit & Fun sports programme. Prices start from CHF 1245 (approx £885) per person.
Book online at kronenhof.com.