High power, high spec DAF is flagship of Barry Proctor fleet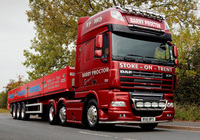 At 510 horsepower, bristling with extra lights, and in a stunning metallic paint finish, the new DAF XF105 flagship of the 24-strong fleet of Barry Proctor Services Limited is sure to be a head-turner.

The Stoke-on-Trent company, which specialises in providing haulage services to the building products industry, is renowned for the high quality and appearance of its vehicles and the new DAF sets an even higher standard.

Its driver, Andrew Owen, has been rewarded for the care that he always takes of his trucks by being put at the wheel of the 105 and he is said to "absolutely love it!". He'll cover over 100,000 kilometres a year in it carrying bricks, blocks and architectural stone to building sites from manufacturers throughout the UK.

When on the road and during the three nights that Andrew will spend each week sleeping in the cab, he can be sure of a comfortable working and living environment. The Super Space cab offers him a large amount of space with enough internal height for him to stand up easily and plenty of storage space for his personal gear.

To standard features like air conditioning and automatic temperature control the company has added a fridge, microwave, six-speaker radio/CD player, and a flat screen TV. Carpets and curtains have been specially made which, together with the wood effect dashboard, complete the luxurious feel of the cab interior.

Externally the DAF has a number of eye-catching features, not least an array of additional lights and an illuminated name panel by Kelsa. The top mounted roof bar has no fewer than six spots, with a further four in the grille bar. These are supplemented by skylights fared into the roofline, fog lights inset into the bumper, and a 'low' bar underneath the bumper. With side lights, the truck sports an amazing 84 LED lights. Completing the stylish appearance are Alcoa Dura-bright alloy wheels on both the tractor and its tri-axle Montracon dropside trailer.

Out on the road the mid-lift axle FTG XF105 has plenty of power with the 12.9-litre MX engine delivering a mighty 510hp at 1,500-1,900rpm; with a power-to-weight ratio of close-on 12hp per tonne. With 2,500Nm it has also got plenty of torque to get the truck moving in all road and load conditions. And to reduce stress and fatigue during long driving days, it has the AS-tronic 12-speed automated transmission with an engine and exhaust brake also adding to safety and reduced wear on the service brakes.

"I think that it's always better to be on top of the job in terms of power," says managing director Barry Proctor, who started his business 26 years ago. "It means less stress on the engine and less on the driver, and it allows good average speeds to be maintained, which results in better journey times and improved fuel efficiency.

"We run a number of DAFs and have always enjoyed excellent service both from the manufacturer and the supplying dealer, Imperial Commercials. Their salesman, Barry Mountford, is very keen to ensure that our needs are met precisely and on time. And with this truck I was also impressed by the factory paint finish, which is of a very high standard."

Other contributors to the comprehensive specification of the truck include WEP of Wisbech, who fitted the full width catwalk and sideskirts, M and G Commercial Vehicle Refinishing, who painted them to match the factory paint finish, and Andy Scott of Sheffield, who was responsible for the airbrush work.