Lucky Metro winner takes delivery of Mitsubishi i-MiEV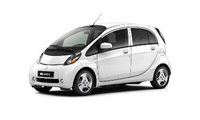 Lucky Metro reader Nicola Ahmed has taken delivery of her new pure electric Mitsubishi i-MiEV. Nicola won the car in a recent competition in conjunction with the Metro newspaper and was handed over by our North West approved Mitsubishi EV dealer, Manchester Mitsubishi.

Nicola, aged 22 from Cheshire, completed an online competition, which ran from May to September. Readers were asked to go to the Metro website and complete an on-line calculator which showed how the i-MiEV could save you money based on your annual mileage as well as being kinder to the environment.

Readers were also able to visit their local Mitsubishi EV centre and test drive the i-MiEV to see how it would fit in with their lifestyle and to evaluate how easy it is to live with an electric vehicle. Chloe Singer, one of those who tested the i-MiEV, said:

"I'm totally committed to protecting the environment in any way I can. Drive around London for a day and you'll see why: we can't go on pumping filthy emissions into the air the way we do. Some days the smog is horrendous.

But just because I'm driving a car that's carbon neutral, doesn't mean I want one without any personality. I want a car I can project a bit of myself onto: something that really stands out from the crowd without looking cheap or gimmicky. What I particularly loved about the i-MiEV – all the money-saving and environmental benefits aside - is the loads of different ways you can spec it to reflect your personality."

Redefining the way that people drive, the i-MiEV heralds a new era in greener motoring. The pure- EV, Mitsubishi i-MiEV has zero tailpipe emissions and thanks to Mitsubishi's concept of Intelligent Motion, its environmentally focussed build, economical performance, funky good looks, and all-round drivability make it a smart choice for savvy business people and conscientious motorists alike.

The lucky winner, Nicola, said: "I am so excited to be winning the Mitsubishi i-MiEV. My sister recommended this competition to me as she knows exactly how much in need I am of a new reliable car. I currently spend over £40 pounds per week on fuel at the petrol and have spent well over a £1,000 within the past year fixing parts just to get it through the MOT.

I couldn't believe it when I received the phone call - I've never won anything before and I couldn't contain my excitement! I am looking forward to driving the Mitsubishi i-MiEV as I think electric cars are an amazing idea. They're not only great for the environment, but I will enjoy knowing that I no longer have to stop at a petrol station - the less pollution the better! Thank you so much to the Metro and Mitsubishi Motors for giving me this amazing prize. I couldn't be happier".