Give your children the gift of travel this Christmas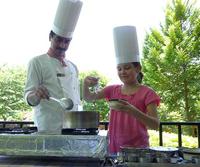 In an increasingly commercial world there are some things that money can't buy like memories gleaned from exciting family adventure holidays spent over the Christmas and New Year period with like-minded people.
Families Worldwide offers Christmas trips to over 25 countries around the world; here are just a few suggestions for trips that are still available for 2011/12.
Christmas Day looking for lions in Kenya – 11 days from £1889 pp
Experience the great African outdoors on the 11-day Rift Valley Explorer trip whilst staying in a hotel and a variety of camps to enjoy views of Kilimanjaro from Amboseli, the serene beauty of the Rift Valley lakes – with extraordinary flamingo-filled Lake Nakuru – and the grassy plains of the Maasai Mara, literally teeming with big game. This is not just a safari; it's a learning experience about Africa and the Maasai people. Departing 18 December, the holiday costs from £1889 per child (min. age 5) & £2199 per adult.
A Christmas Day Elephant ride in Kerala – 12 days from £1799 pp
Enjoy the beauty of southern India on the 12-day Backwaters of Kerala trip. Highlights will include visiting a hill station, a boat cruise in Periyar National Park to see herds of elephants, a visit to a tea plantation and learning to cook Indian food! The itinerary also includes spending a night on a converted rice barge. Departing 17 December, the trip costs from £1799 per child (min. age 5) & £2099 per adult.
Christmas Day camel safari in the deserts of Jordan – 8 days from £1214 pp
Head for the country that seeped into the soul of T.E. Lawrence on the 8-day Crusaders & Camels trip departing 19 December. Highlights will include Jerash, Amman, a camel trek on Christmas Day (optional), tour of Petra, a drive to the Dead Sea (the lowest point on earth) and a visit to a Crusader castle at Kerak. Best of all is a 4WD through the desert at Wadi Rum and then a night sleeping under the stars in a Bedouin-style camp. The holiday costs from £1214 per child (min. age 5) & £1449 per adult.
Trips include flights, land transportation, accommodation, meals (as detailed in the itinerary), activities and the services of a tour leader, visit familiesworldwide.co.uk.