A library with a difference - tequila tasting at Rosewood Mayakoba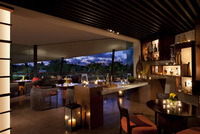 No visit to Mexico is complete without chinking a glass and cheering 'Salud' over one of Mexico's finest alcohols - tequila. Rosewood Mayakoba situated on the white sands of the Riviera Maya has built an exceptional 100 strong Tequila Library that definitely won't send you to sleep.
Located on a mile long arc of Caribbean white sand, guests at Rosewood Mayakoba will discover a tequila selection like no other. Guests are transported to their sanctuary on personal boats winding through the lagoons and jungle of the 1,600 acre enclave. Greeted in their room with a bottle of Don Julio Blanco and fresh lime, guests will begin their tequila studies on day one before making their way to Agave Azul, Rosewood Mayakoba's very own tequila bar.
Settling down into the Tequila bar, guests are taken through the unparalleled tequila selection by the resident tequila expert Victor Sanchez. Victor has trained in four tequila distilleries across Mexico and is truly knowledgeable on Mexico's famous drinks. Victor will prepare shots of tequila from a selection of 100 bottles, explaining the flavours and history of the alcohol. But this tequila library is not all about learning, and guests are able to sip, swig or knock back some of the finest tequila in the world!
The premium brands available at Rosewood Mayakoba are meticulously aged in French oak barrels, taking on the flavours of the wood whilst the harshness of the alcohol mellows. For a fruitier tequila offering, connoisseur Victor Sanchez suggests a 'Paloma' with Herradura Reposado tequila, a refreshing combination of grapefruit and soda with the classic tequila accomplices of salt and lime.
Tequila tasting sessions at Rosewood Mayakoba start from US$25. Nightly rates at Rosewood Mayakoba start from US$525, with an offer of four nights for the price of three running from 3rd January to 30th April 2012.
For reservations, visit rosewoodhotels.com.