The ultimate driving test - high speed ice race driving in Finland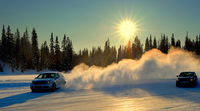 Winter's approaching and it's time for something new. You've tried ice skating and sledding down a snowy hill; you've probably tried skiing and perhaps snowboarding. But have you ever tried high speed driving on an ice-covered racing circuit?
At the Juha Kankkunen Driving Academy in Finland's Northern wilderness, adrenaline junkies can experience the ultimate winter racing experience. Finnish Rally World Champion Juha Kankkunen and his experienced team will teach visitors how to control a car at high speed on an ice-covered racing track, as well as the art of rally racing in the arctic.
With two ice and snow covered tracks, brand new cars fitted with hand-made winter tires and Monte Carlo style studs, this is an exhilarating challenge for even the most experienced winter thrill-seekers. The VIP ice-driving experience is completed with exclusive accommodation, the very best in seasonal Finnish food and unparalleled VIP treatment.
Courses are priced from €700 per day for groups and €1200 per day for single drivers. The package includes a full day's driving tuition and training with professional rally instructors, transportation to and from the tracks, fuel, insurance, towing, theory, cottage lunch and local assistance. Accommodation is priced from €100 per night, with a choice of cottage or hotel, including breakfast.
Finnair offers daily flights to Kuusamo via Helsinki (from London Heathrow & Manchester).
For more information or to book, visit:
juhakankkunen.com/driving_academy/en/index.php