Customers determine new Bakers Dolphin holidays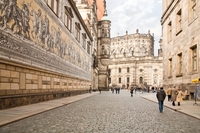 West Country coach operator Bakers Dolphin has launched a new programme of tours for 2012 including more upmarket offerings, more all inclusive options, additional tours by air and more destinations than ever before.
The changes come after the Weston-super-Mare based company carried out an extensive customer survey, to find out where people in the South West wanted to go on holiday.
One new introduction is a seven-day trip to Leipzig, Dresden and Colditz as a result of several travellers expressing an interest in visiting the area of 'Old East Germany'. The tour takes in famous landmarks and as a Gold Coach trip takes the hassle out of travelling abroad.
Bakers Dolphin sales and marketing director Amanda Harrington said: "This year we have really listened to what our customers want from a holiday, in terms of destinations, quality, number of nights, all inclusive options and pricings and we have based our bumper new brochure upon their answers.
"We understand how important holidays and breaks are to people so we want to make them as enjoyable as possible, which is why we are constantly tailoring our packages. People are so passionate about their holidays we have brought the launch of the new programme forward from its usual time in November, as we found holiday-makers wanted to start booking now.
"We have added 40 new destinations both within the UK and abroad as well as more all inclusive options and Gold Coach tours, which have proved really popular.
"This year we have also been meticulous at hand-picking the perfect hotels for our customers and we've found some real gems!"
Gold Coach packages offered by Bakers Dolphin provide luxury coach travel with added comfort to some great destinations in the UK and further afield. Due to the popularity more tours have been scheduled meaning holiday-makers can travel in style to places like County Cork and the Swiss Alps more often.
The new programme also includes more tours by air including a seven-day holiday to Toronto and Niagara Falls. These tailored packages cannot be bought off the shelf offering travellers the chance to discover stunning locations in comfort and with no hassle.
Amanda continued: "Our West Country customers also said they wanted more destinations close to home but not necessarily travelling South, so we have added trips to the Cotswolds, Robin Hood Country in Nottingham and a tour of Jane Austen's Downton Abbey to offer even more choice.
"Activity holidays were also on the wish list so we have added a Home Cooking in Tuscany tour allowing travellers to discover some of the secrets of Italian cooking. The new brochure is packed full of ideas, there's sure to be something for everyone."
All new tours can be found in the Bakers Dolphin Summer 2012 brochure which is available now. To request a copy, visit bakersdolphin.com.
If you can't wait until next summer to get away, pick up the Autumn/Winter 2011 brochure which features great winter breaks and Festive trips to keep you entertained during the cold months.