Three Fords named best used buys by What Car?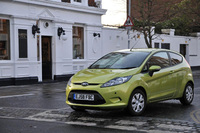 Ford has collected three Used Car Awards from What Car? in recognition of the market-leading range's popularity in the UK's pre-owned car market.

The UK's top selling car, the Ford Fiesta, is the model which used small car buyers should be targeting, according to What Car?.

The 'buyer's bible' recommended the three-year-old five-door, 1.25-litre Ford Fiesta Style+ for its outstanding value including MP3 stereo, air con, remote central locking and electric windows.

"As well as being well priced, the Ford Fiesta has low running costs," said What Car? "The Fiesta is genuinely entertaining to drive, quiet and smooth, well specified and roomy, which means it suits most small car buyers perfectly."

Two Ford large cars are also What Car? Used Car Award winners – Ford Mondeo and Ford S-MAX.

The Ford Mondeo, already Best Family Car and Best Estate Car winner at the title's 2011 new car awards, is also its Best Used Family Car. What Car? highlighted the four year-old Mondeo in five-door 2.0-litre TDCi Zetec guise.

"The 2.0 TDCi makes the Mondeo feel suitably rapid and it averages a respectable 47.9mpg," concluded What Car?. "The Mondeo's blend of sharp styling and quality materials gives it the air of an executive model."

Ford's same acclaimed 2.0-litre TDCi diesel is the chosen engine in What Car?'s Best Used Multi-Purpose Vehicle (MPV). The Ford S-MAX 2.0 TDCi Zetec on a '57' plate is praised for its sharp steering, tight body control and nimble handling.

Mark Ovenden, Ford Britain managing director, said: "Ford's best ever new car range is now providing the used market with a succession of exciting models. The Ford Fiesta, Mondeo and S-MAX are winning over customers from the showroom to the forecourt through an unrivalled combination of quality and value."

Ford dealers' used car performance was 3.2 per cent up in the first eight months of this year versus the same 2010 period.