Mitsubishi offer wider range of finance deals for i-MiEV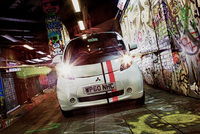 Mitsubishi has announced a wider range of competitive finance offers for their pure-EV, the Mitsubishi i-MiEV. Although rivals may claim otherwise, the Mitsubishi i-MiEV was the first mass produced pure EV to enter the global stage and as such was also the first to the UK market back in 2009. The EU specification has been on sale since January 2011 to coincide with the UK government's Plug-In Car Grant (P-ICG).

Since 1st January, nearly 170 vehicles have been operating on the UK's roads driven by a whole host of different customers from private retail customers and corporate fleets to public sector organisations. Out of the sales thus far, contract hire and leasing customers are responsible for approximately 10%.

i-MiEV Now Available From Just £239 Per Month

To help further the success of i-MiEV sales within the retail and business sectors, Mitsubishi Contract Motoring is offering extremely competitive and flexible finance rates.
0% APR Finance Option

In addition to the new contract hire and leasing rentals, both retail and business user customers can benefit from a 0% APR Finance option. This offer is available on both regulated and non-regulated finance plans, with and without final balloon payments.

A minimum post grant deposit is required on both plans. For retail customers, this type of proposition means that ownership passes upon signing the agreement and for business users, the vehicle is an asset on the balance sheet and lower monthly payments aid cash flow.
In addition to these outstanding market leading finance offers, independent residual value advisors, CAP, have predicted the Mitsubishi i-MiEV will retain 43% of its on-the-road price after the £5,000 government incentive P-ICG and after three years and 30,000 miles - which is better than most combustion engined rivals.

The ultra-low running costs of the i-MiEV are also a key advantage over other cars, with additional incentives including 'fuelling' for as little as £1.05 per full charge (if using Economy 7 tariff), low servicing costs and minimal downtime. The i-MiEV is also exempt from road tax, is free from the London Congestion Charge and is entitled to free parking in some London Boroughs and cities such as Milton Keynes.

Company car drivers will further benefit as the i-MiEV is not subject to Benefit-In-Kind tax. Furthermore, businesses will benefit as they can write-down the vehicle's full value in the first 12 months.