Great new recipes for a classic Christmas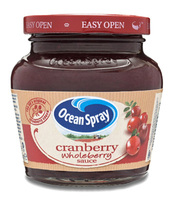 Ocean Spray has been at the heart of the Christmas meal since the 1970s when it first introduced cranberry sauce to British taste buds. Now, with an inspired new look and even fruitier taste, there's even more reason to serve up the nation's favourite classic cranberry sauce this Christmas.
Bursting with more delicious fruit, Ocean Spray's new recipe delivers more zingy cranberries in every spoonful so heap it generously on your Christmas turkey to make your festive meal the best ever. Made with all natural ingredients, Ocean spray's new expert blend contains only the finest berries keeping true to its original, authentic and homemade taste.
As well as getting excited over its taste you'll love its stylish new jar, worthy of a special place on your Christmas lunch table. And with a revolutionary 'Orbit Easy Open' lid that you won't find on any other condiment, Ocean Spray is taking the hassle out of traditional twist caps, making it even easier for you and the family to enjoy cranberry sauce this Christmas.
Ocean Spray has a Wholeberry cranberry sauce and Smooth cranberry sauce (without the bits!) to partner your traditional turkey dinner. For something a little different try Smooth cranberry & redcurrant jelly (285g), the perfect complement to lamb and other roast meats. Look out for the new 250g jars in supermarkets nationwide and expect to pay £1.49- a small price but a big step towards the perfect Christmas lunch.
Berry good for you
Did you know that the cranberry sauces - like the rest of the Ocean Spray cranberry range - contain antioxidants and natural compounds that can help protect your inner health? You can even stir your favourite sauce into recipes, as cooking doesn't lessen these benefits. Don't forget that you can use Wholeberry or Smooth cranberry sauce in your cooking, and for a twist, try Cranberry & Redcurrant too - for a variety of new recipes to keep the family happy at Christmas, visit oceanspray.co.uk.