New Lobster Catch & Cook break at The Lugger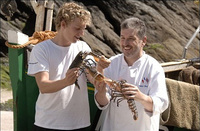 The Lugger Hotel in the stunning Roseland Peninsula have the perfect package for foodies - a 2 night 'Lobster Catch & Cook' break. Inspired by the local fishermen that land their catch almost at the hotel's front door, they decided to get in on the action and have created a package which includes a trip out with the fisherman to catch your lobster dinner.
With its perfect location on the water's edge in the pretty fishing village of Portloe, The Lugger has always been the destination for foodies with its double AA Rosette serving the freshest fish and seafood. Over two nights guests can hole up in this most idyllic Cornish hideaway and early one morning join local fisherman, James, as he sails the waters of the beautiful Roseland Peninsular, pulling up parlour-pots and checking for crab and lobster along the way. Then it's onto the rods for some sea bass and mackerel before heading back to harbour armed with a fresh and slippery catch.
Back in The Lugger's kitchen guests are joined by the Head Chef and taught how to prepare, cook and dress their own caught lobster served up on the sunny terrace high above the sea with a delicious bottle of Muscadet.
This is a most enlightening and authentic catch and cook experience, allowing guests to get to grips with Cornwall's most prized fruit, the lobster, and experience the challenges and fun of sea fishing as well as how tasty the rewards can be!
Prices are from £220 per person staying two nights based on two people sharing. Includes breakfast, dinner, fishing trip, lobster cooking with chef, and meal served with a bottle of Muscadet.
For more information and bookings, visit luggerhotel.com.
Lobster Catch & Cook runs from April until September.