W Hotels and DJ Lab presents DJ Angus Wong at W Retreat & Spa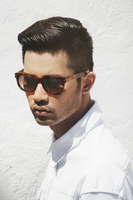 W Retreat & Spa – Maldives, announces that DJ Angus Wong will take residency and perform between 21 – 25 January 2012 as part of the W Hotels and burn studios DJ Lab global tour. W Hotels Worldwide and burn studios launched the DJ Lab music platform, which was developed by burn, a globally leading energy drink from The Coca-Cola Company, in August 2011, in Ibiza, Spain.
You won't find another musician whose sound is as intoxicatingly stylish, sultry and sophisticated as DJ Angus Wong. Famous for lifting his listeners to exhilarating highs of audio dynamite, Angus' mix is reckless and wreaks hidden pleasures, much like his very cheeky personality. His passion for music began at a young age, influenced by the crazy 80s and 90s and equipped with only 6 CDs, the young DJ bravely taught himself how to spin at 21, playing his first-ever gig to a full-house crowd in wild Hong Kong. He is also responsible for creating the highly successful monthly club series called Gay Tea Dance at Tivo. Today, DJ Angus Wong is the resident DJ at W Hotel Hong Kong.
For the DJ Lab, W Hotels Global Music Director Michaelangelo L'Acqua collaborated with burn studios to identify six rising DJs, in line with the W Hotels mission to showcase 'what's new and next.' Hailing from key international cities across the globe, the talent selected include, DJ Angus Wong of Hong Kong, Lincoln Madley of New York (aka DJ Bouji), Miaou Mix (comprised of Noemi Sunshine Ferst and Judith Dju of Tête d'Affiche, Paris), Stopmakingme of London (aka Daniel Avery) and Eiko of Tokyo. While in Ibiza, the DJs were provided tools, information, and mentorship from renowned music talent, including Arthur Baker, Cassius and Mode F, to enhance their skills and help them realize their full potential before embarking on a worldwide tour with W Hotels.

Follow the DJs on their global tour. Watch for upcoming dates on whotels.com/music
Who: DJ Angus Wong
What: In Residency
Where: W Retreat & Spa – Maldives
When: 21 – 25 January 2012