Fred Ponnavoy's festive Hot Chocolate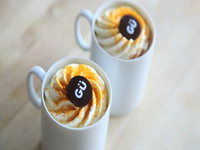 If a warm and cosy night by the fire is in order, add an extra helping of daily decadence with a festive Hot Chocolate complete with a tasty twist by Fred Ponnavoy, head chef at Gu Puds.
In this video, Fred demonstrates how to add a festive touch to Gu's Afternoon Pots of Chocolate Ganache and pour a far from ordinary Hot Chocolate. Designed to tickle even the most discerning of taste buds, these indulgent drinks are best enjoyed as a smooth and silky time-out from party planning. Simply curl up and enjoy!
Hot Chocolate
Makes 4 hot chocolates
Ingredients
2 pack of 3 x Gü ganache
300 ml of full fat milk
2 large oranges
70ml Grand Marnier
250ml whipping cream
Grated chocolate or chocolate decorations of your choice
Method
Pre-heat your oven to 80°C (176°C)
Wash the oranges under cold water, dry them using a paper towel before finely grating. Mix the Grand Marnier and half of the orange zest in a pan and bring to a simmer

Sieve this mixture and transfer the zest onto some baking parchment. Place in the oven for 30 minutes at 80°C (176°C)
Leave to cool then reduce to a powder using a grinder. Keep in an airtight container
Let the Grand Marnier syrup cool down and mix with the whipping cream according to your preference. Whip to a Chantilly (for you and me that means a light and foamy mixture when the cream is whipped to peak consistency) and mix with the rest of the fresh orange zest
Remove the foil lid from the Gü Ganache pots and melt all 3 in the microwave for roughly 30 seconds each
Heat the milk, remove from the heat and pour the ganache over the milk. Whisk the two together and decant into a glass or cup of your choice (for a bit of daily decadence we like a champagne glass but any cup, mug or glass works just as well)
Add the Chantilly. For the grand finale, sprinkle with the orange powder as well as some grated chocolate and devour!
For more information and further recipes, visit gupuds.com.