New Ford Focus receives four Euro NCAP Advanced rewards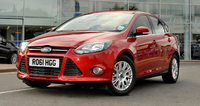 The new Ford Focus has become the first ever car to receive four Euro NCAP Advanced safety rewards after its Driver Alert and Forward Alert technologies were honoured this week.

The rewards come a month after new Ford Ranger achieved an historic first by becoming the only pickup to receive a maximum 5 Star safety rating from Euro NCAP. Ranger also achieved the highest score ever recorded by Euro NCAP for pedestrian protection.

"At Ford Motor Company we are committed to providing outstanding levels of safety for vehicle occupants, and it is immensely gratifying to have received two more Euro NCAP Advanced rewards with the new Ford Focus," said Stephen Odell, chairman and CEO, Ford of Europe.

Euro NCAP Advanced rewards were introduced in 2010 to recognise car manufacturers that make new safety technologies available. Ford is one of only two manufacturers to hold four of these rewards and the only manufacturer to achieve this with one product.

Michiel van Ratingen, Euro NCAP general secretary said: "As part of Euro NCAP's mission to promote important innovations in safety, we are rewarding Ford for its Driver Alert and Forward Alert systems on the Focus, making the car the first that offers four rewarded technologies. Seeing a C-segment volume seller like Focus rewarded for various technologies clearly shows where Ford and the automobile industry is moving in Europe. Confidence is growing that driver assistance functions save lives and reduce injuries, the rewards emphasise the benefits for consumers."

Technologies explained

An estimated 1,300 people a year die on Europe's roads as a result of driver fatigue. Ford's award-winning Driver Alert system is designed to detect tired driver behaviour, using advanced camera technology and on-board sensors to evaluate vigilance levels.

The system monitors the vehicle's position relative to lane markings using a forward facing, windscreen mounted camera. It also communicates with the car's on-board yaw sensor to detect erratic movements.

Using this information, the system constantly computes how vigilant the driver is, and presents this rating via a display in the instrument cluster. It sends a warning if it detects the driver is fatigued and needs to rest. The Driver Alert feature is available on new Focus, C-MAX, Grand C-MAX, Mondeo, S-MAX and Galaxy.

"Driver fatigue can affect anyone," Ford engineer Margareta Nieh said. "When a driver becomes drowsy they tend to drift off-line as they lose concentration and they might make sudden corrective steering inputs. Our Driver Alert system is designed to detect these erratic driving movements and warn the driver in a timely manner."

Ford's Forward Alert accident warning system uses radar technology to scan the road ahead for slowing traffic. If it detects a braking, slower moving or stationary vehicle in front and it determines that a collision is likely, the system alerts the driver with an audible chime and by flashing a warning symbol in the instrument cluster. If the driver fails to brake immediately the system triggers another function, brake support.

"Brake support prepares the brake system for rapid braking by pre-charging the brake booster," said Ford engineer Pradeep Nold . "When this happens, the brakes are automatically applied and the driver will notice a slight jerk. The braking system is now at a state of maximum readiness. As soon as the driver lifts their foot off the accelerator, the system will apply the brakes, slowing the vehicle. When the driver then hits the brake pedal, the system applies full braking force."

Forward Alert can be switched on or off via the cluster menu and drivers can choose between three different sensitivity settings. The brake support feature is always active.
"Analysis of European accident data shows that rear-end collisions account for about 15 per cent of all traffic accidents resulting in injury," added Nold. "Forward Alert is designed firstly to warn the driver, and then to reduce the severity of an impact."

Forward Alert is currently available on new Focus, Mondeo, S-MAX, and Galaxy.