Heading to Africa this Christmas? You won't be lacking in festive cheer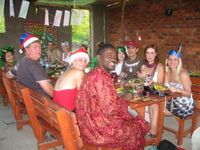 It might not be a quintessentially Christmassy destination, and with temperatures soaring in to their thirties throughout much of Africa already, there certainly won't be any snowy winter scenes. But Christmas definitely won't go unnoticed for those visiting or thinking about visiting Africa this Christmas. The different African countries have varied Christmas traditions and customs, owing to their diverse cultures and backgrounds, but in areas where Christianity is practiced, the locals go just as crazy for Christmas as our European and American counterparts, without the materialistic excess.
Whilst many African nations have very low poverty rates, they are rich in spirit and merriment, eagerly anticipating and celebrating Christmas with enthusiasm and excitement.
Traditions include groups of carollers waking early on Christmas day and walking to and fro through the village, with children going from door to door, singing and dancing. Material gifts are replaced with offers of love and kindness. Proud locals attend church in their Christmas best and return home to play games and share food with family and friends.

Christmas is the perfect time for singles, couples and families to go on an African adventure, and experience the warmth exuded by the local people.
There's only one phrase that travellers will need to master on a visit to Africa in December – 'Happy Christmas'.
Here are a few examples of how to say it using the local lingo:
South Africa and Namibia - Geseënde Kersfees
Swaziland - Sinifisela Khisimusi Lomuhle
Tanzania - Krismas Njema Na Heri Za Mwaka Mpya
Zimbabwe - Merry Kisimusi
Botswana - Merry Christmas (this one shouldn't be too hard to remember)
Namibia family explorer:
Families can swap Newquay Zoo for Namibia and head to this truly spectacular and diverse country full of amazing natural wonders and friendly locals on Inspired Break's new Namibia Explorer. The trip will have them seeing and climbing the world's highest sand dunes at Sossusvlei, marvelling as the red sand changes colour in the early morning sun. The whole family will spend time with the Himba people in a traditional village and learn about their unique way of life that children would never have the chance to experience in the classroom. They will be amazed by the diverse wildlife of this incredible country as they go on safari in the spectacular Etosha National Park famous for herds of zebra, wildebeest, oryx, elephants and its floodlit waterholes where rhino come to drink. On the coast, the wildlife becomes even more diverse with flamingos, cape fur seals and dolphins. And finally, after pressure from the kids to go and see a real life Simba from the Lion King, parents will be pleased that they can spend time at the famous Africat Foundation Conservation Centre, where all the family will have the opportunity to get up close to lions, cheetahs and leopards.

Christmas departures on 19th December. Prices start from £1,499 per child and £1,799 per adult for 13 days land only. Includes in-country transports, accommodation (Hotel, camping, chalets), meals (12 breakfasts, 11 lunches & 9 dinners), activities as per the itinerary and the services of a trip leader throughout the trip. For more information, visit inspiredbreaks.co.uk.