Apricot for winter health - Easy as ABC with Organic Apricot Juice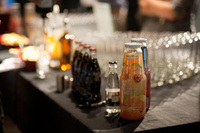 Organic Village have introduced a delicious new Apricot Juice which is the only organic apricot juice on the market in the UK. Not surprisingly, it is proving particularly popular with chefs in professional kitchens for sauces and desserts, and behind the bar for flavour-filled Bellini style cocktails (more perky than peach) and for healthy alcohol-free 'mocktails' for New Year celebrations.
Apricot Juice is bursting with goodness and is high in vitamin A, and also a good natural source of vitamin B2 (rifoflavin), B3 (niacin) and vitamin C - a veritable ABC of natural health. The juice is a simple way to top up your vitamins over the winter, when apricots are not in season. A 150ml glassful counts towards our recommended five-a-day.
Apricots are valued for their precious nutrients which have been shown to help prevent a wide variety of health complaints. They are high in betacarotene and lycopene, two antioxidant compounds commonly found in orange-red fruits and vegetables that are good for heart health. These two nutrients help protect against LDL cholesterol (high levels can lead to cardiovascular disease and atherosclerosis).
Apricots are a great source of vitamin A, which is essential for vision. The fruit contains zeaxanthin, a carotenoid selectively absorbed into the retinal 'macula' in the eyes where it is thought to provide antioxidant and protective light-filtering functions. Consumption of fruits like apricots rich in zeaxanthin has been shown to help protect against macular disease or age-related macular degeneration (ARMD). This compound is not made in the body; it can only be obtained from food.
Apricots also provide vitamin C, great for winter health, and other much needed minerals - potassium, iron, zinc, calcium and manganese - to maintain your family's health and wellbeing over the winter months. Organic Village's 100% pure fruit content juice harnesses the goodness of sun-ripened apricots in a bottle bursting with freshness all year round. One 200ml bottle is squeezed from 285g of organic apricots.
As anyone who has ever tried will know, apricots are almost impossible to juice at home. Organic Village's juice is deliciously thick, but not pulpy. This juice is first-pressed which means it contains very little of the tasteless pulp that some other brands use to bulk up their product. It also means Organic Village's juice has a real intensity of flavour and depth of colour which makes it a versatile ingredient for anyone with a bit of imagination and flair in the kitchen.
Organic Village juices are not made from concentrate, contain no added water, no added sugar, in fact no added anything. Just 100% pure juice, as nature intended. They are pressed from fruit growing in the beautiful organic orchards of Anatolia, Turkey, free from chemical pesticides and sprays. The range is certified organic by the Soil Association.
Typically the juice provides just 47kcal of energy per 100ml glass, so relatively low-cal for those watching their weight after Christmas, despite the natural sweetness. Kids will love this juice as a healthy treat.
Health Tip: swop your usual sugary snack in the afternoon for a velvety smooth glass of Apricot Juice, it's like nectar. Or serve the juice as a coulis with apricot tart as a healthy alternative to pouring cream.
Available (rrp £1.29 200ml or £3.50 1 litre) from independent health food stores, specialist food halls, delis and organic cafés, or from the new online store at organicvillage.org.