Get ready for the ride of your life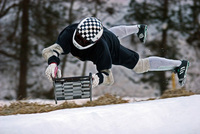 When the first British guests arrived to winter in St Moritz in the late 19th century, they looked for ways to amuse themselves until one bright spark came up with the idea of using the natural slope from St Moritz to the neighbouring hamlet of Celerina to create an icy shute, down which they could throw themselves attached to a tiny sled. The Cresta Run was born. Roughly 20 years later, in 1904, the St Moritz Celerina Olympic bobsled was created. Today, they remain the oldest runs in the world and the only ones made entirely of naturally formed ice.
The Kulm Hotel St Moritz offers modern-day adrenaline junkies the chance to sample these two shutes, which are normally only open to members of the St Moritz Tobogganing Club. One of the top ten winter sports hotels in Switzerland according to Sonntagszeitung, the country's leading Sunday newspaper, the Kulm achieved its ranking thanks to its consistently high service standards and exemplary management.
The "Cresta Run" package includes three nights' accommodation, plus a lavish daily breakfast and lunch in the Sunny bar, the meeting point of the Cresta riders off the shutes, as well as five Cresta rides over 2 to 3 days including tuition, equipment and a 25-minute massage – essential for easing the pain after a ride! The package costs from CHF 1,515 (approx £1,050) per person sharing a double room. Please note that women, who are not allowed down the Cresta Run, receive a credit of CHF400 to use in the Panorama Spa.
Women are, however, allowed to participate fully in the "Bob Taxi Ride" package, which includes two nights' accommodation on a half-board basis, a bob taxi ride (with a certificate and an Olympic Bob Run pin) and a relaxing sea salt bath. Prices start from CHF965 (approx £670) per person sharing a double room.
Please note that the Cresta Run is only open from 9 January 2012 to 9 February 2012 (excluding Saturdays) and the bob run is only open from 15 January 2012 to 9 February 2012.
For more details and to book, please visit the Kulm Hotel St Moritz website - kulmhotel-stmoritz.ch.