It's easy to purchase new homes in St Neots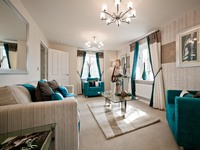 Cambridgeshire property-seekers can attend a special Taylor Wimpey event to discover how straightforward it can be to buy stunning new homes for sale in St Neots at Knights Park or Papermill Lock.
First-time buyers who believe the property ladder is out of their reach will think again if they attend Taylor Wimpey East Anglia's free Mortgage Myths Forum at a popular development of property for sale in St Neots, Cambridgeshire.
Research commissioned by the leading housebuilder suggests that many would-be buyers are deterred from looking into purchasing new houses for sale in St Neots because they assume they won't qualify for a mortgage – but this special event on Saturday 14th January will see Taylor Wimpey set the record straight.
Two forums will take place, one starting at 12pm and a later one at 2pm, at the Knights Park development in Chapman Way, where Taylor Wimpey experts will dispel popular misconceptions about mortgage lending and explain to potential first-time buyers how it could be much easier than they think to afford their very own property in St Neots.
With 1% stamp duty set to return for first-time buyers purchasing homes above £125,000 on 24th March 2012, the experts will also explain why it makes perfect financial sense for would-be movers to step on to the St Neots property ladder sooner, rather than later.
Stacy Dornan, Sales and Marketing Director for Taylor Wimpey East Anglia, says: "Our research shows that 92% of people think it is hard for first-time buyers to secure a mortgage, and that two out of three prospective property purchasers are completely put off from applying because they fear they will be turned down*.
"By attending our Mortgage Myths Forum at Knights Park, aspiring buyers will not only find a new property could be comfortably within their reach, but they'll be pleasantly surprised at how straightforward and stress-free the whole process can be when purchasing a Taylor Wimpey home.
"Not only might they require just a 5% deposit to secure their perfect property, but as long as they act quickly, there is plenty of time for them to make their purchase ahead of the return of 1% stamp duty for first-time buyers in March 2012."
The Mortgage Myths Forum will include an informative presentation from Taylor Wimpey's experienced sales team and an independent financial advisor to demystify the mortgage application process.
The advisor will also be able to assess individual circumstances on the spot, and offer advice on how it is possible to secure a brand new Taylor Wimpey home at the popular Knights Park and Papermill Lock developments in St Neots.
First-time buyers can also find out about the range of money-saving incentives offered by Taylor Wimpey, which means they could potentially purchase their new property with only a 5% deposit.
The Government-backed FirstBuy scheme is one of the initiatives available for first-time buyers at Knights Park and Papermill Lock and means selected new homes can be accessed by eligible purchasers for 80% of the full price, including a 75% mortgage and a 5% deposit, subject to status.
Full details of this fantastic incentive, and other schemes for first-time buyers, will be available at the Mortgage Myths Forum.
Prices for two-bedroom houses start at just £157,995, three-bedroom properties at only £169,995 and four-bedroom detached homes at £239,995 at Knights Park, which is located in Chapman Way, St Neots, PE19 2SA.
Three and four-bedroom townhouses are priced from as little as £199,995 at Papermill Lock, in Samuel James Crescent, Little Paxton, St Neots, PE19 6QZ.
The first Mortgage Myths Forum takes place at 12pm, and the second at 2pm, on Saturday 14th January at the Knights Park Sales Information Centre. To book their place at the forum, first-time buyers can also call the Sales Executive on 0845 072 6495.
For further information, visit taylorwimpey.co.uk.