Dive into aquatic adventures on the Great Barrier Reef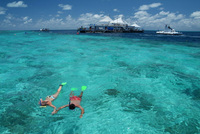 Audiences inspired by the Sunday night BBC documentary, Great Barrier Reef, should escape for their own close encounters with this most spectacular natural wonder with a reef-freshing break on Hamilton Island.
Set within the Whitsunday Islands at the gateway to the Great Barrier Reef, Hamilton Island is the ideal base for exploring this iconic ecosystem, home to the most diverse plant and animal life on the planet. From scuba diving to snorkelling or enjoying a front-seat view of the marine life in an underwater viewing chamber, up-close encounters with the reef and its inhabitants are as varied as they are plentiful. Visitors can even opt for an overnight 'Reefsleep' experience, an intimate chance to savour the splendour of the reef at night from a private pontoon.
Great ways to experience the Reef include:
REEFWORLD - this day trip includes snorkelling, an underwater viewing chamber and a semi-submersible boat to view the brilliance of the reef and its aquatic inhabitants. Aviation tours are optional extras.
SNORKEL SAFARIS - Dive and snorkel in some of the Whitsundays best locations including one of the Great Barrier Reef's fringing coral reef structures.
SCENIC FLIGHTS by seaplane or helicopter over the Great Barrier Reef and stunning Whitsunday region.
REEFSLEEP - following a night on Hamilton Island, guests cruise out to the Fantasea Reefworld pontoon at Hardy Reef where a range of activities, including semi-submersible tours and the underwater viewing chamber, allows them to explore the reef from both in and out of the water. As the sun sets, guests are served canapés and drinks, followed by dinner alfresco-style under the stars.
Hamilton Island offers a wide range of accommodation options from five-star to relaxed bungalows, not to mention over 60 activities and all within a short direct flight from Sydney, Melbourne, Brisbane or Cairns.
Bridge & Wickers (bridgeandwickers.co.uk) has a 10 night package from £2,415 per person including:
7 nights on Hamilton Island at the boutique Beach Club hotel (18 years and over resort)
3 nights in Sydney including private airport transfers
International and internal Australian flights