Kia unveils sophisticated new cee'd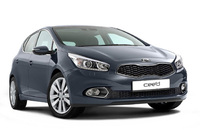 Kia unveils the first image of all-new cee'd today ahead of the car's world debut at the 2012 Geneva Motor Show in March.

New Kia cee'd combines styling typically found on a sporty coupé with the space and functionality of a five-door hatch.

Upmarket exterior design immediately gets your attention, with details like chrome framed windows and muscular lines on the bonnet. The stunning exterior design is complemented by an ergonomic, driver oriented dashboard and refined interior, with a strong focus on quality of materials.

The new Kia cee'd is a technically sophisticated, highly competitive, C-segment entry wrapped up in Kia's award-winning design and industry leading seven year warranty.

New cee'd will be available across Europe from the second quarter of 2012 with UK deliveries expected to start from June.