Desirable Cambridgeshire development takes shape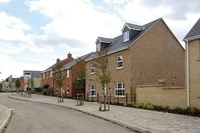 A development of traditionally styled homes in the sought-after Cambridgeshire town of St Neots is beginning to take shape with more than half of the homes now built.
Ideal for families, Redrow's New Heritage Collection at Priory Gardens is proving popular with those in search of a new home with plenty of indoor and outdoor space. As more homes are completed and more residents move in, a number of appealing street scenes have formed and the development has taken on the sense of a real community.
Tonia Tyler, area sales manager for Redrow Homes (South Midlands), said: "As we pass the half way point of Priory Gardens, the style and quality of the homes on offer here is now evident for all visitors to see. They can now appreciate how the character-filled properties blend with each other to create attractive streets of homes.
"Not only that, if they venture inside the homes, they'll find bright, modern interiors, with contemporary kitchens, sleek bathrooms and top brand name appliances."
Home buyers will love their generous layouts and enviable location, close to all the shops, schools and services of St Neots and with good commuter access to London and Cambridge via the local train station, which is within walking distance.
The family homes are all built to modern standards of energy efficiency and require little or no maintenance so there's even more to tempt people to move from an older property.
Two bedroom homes are priced from £161,950, three-bedroom homes from £181,950 and four-bedroom detached properties from £309,950.
St Neots town centre offers many shops, restaurants and entertainment venues, as well as the main attractions of the Great River Ouse and Riverside Park.
There are good road links to the A1, M1 and M11, with Bedford and Cambridge only about 25 minutes' drive away.
For homebuyers looking for a more contemporary exterior design, Redrow still has a selection of homes available at neighbouring Loves Farm, which also feature the same high specification modern interiors. Two bedroom apartments and three and four-bedroom homes at Loves Farm are priced from £123,950.
To find out more about the homes available at Priory Gardens visit redrow.co.uk.