Tilda introduces new White & Brown Steamed Basmati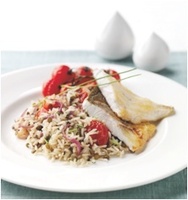 Once the excesses of Christmas and the party season are over, most of us are sure to resolve to eat more healthily. Enter Tilda's NEW Steamed White & Brown Basmati. This healthy store cupboard essential combines tasty White Basmati and nutritious Wholegrain Brown Basmati, ensuring you get the best of both!
Whilst the white grains have a delicate, slightly sweet flavour, the brown Basmati has the bran layer left intact, so it's rich in natural fibre and has a distinctive nutty flavour. Ideal for all the family, this quick and easy product is also low in fat and gluten free,making it a staple ingredient for an everyday balanced diet.
Tilda's Taste Panel nutrition expert, Azmina Govindji says: 'Introducing brown basmati to your diet makes perfect nutritional sense, but many people find it a step too far from white rice. A combination of both types in a convenient steamed pouch helps rice-lovers to improve their eating habits whilst still enjoying the flavours they love. The seabass, rice and lentils recipe provides even more goodness.'
Tilda's Steamed Basmati Rice varieties make a perfect, quick and delicious base to a homemade meal. Already partlysteamed for maximum convenience, the rice only needs two minutes in the microwave or 3-4 mins in a pan to achieve light, fluffy and perfectly separated grains of 100% Pure Basmati rice. Try this versatile rice with a stir-fry, chilli con carne, and a creamy curry or as part of a rice salad.
Sea Bass with Warm Rice and Lentils
Serves 4
Prep time: 15 minutes
Cook time: 25 minutes
Ingredients
Tilda White & Brown Steamed Basmati pouch
150g puy lentils
250g cherry tomatoes
1 red onion, sliced (160g)
2 tbsp olive oil
1 tbsp white wine vinegar
2 tbsp chopped chives
4 sea bass fillets (500g)
Method
Preheat the oven to 200C, gas mark 6.
Cook the rice following pack instructions.
Meanwhile, roast the tomatoes and onion in 1 tbsp oil for 15 minutes.
Whisk together the remaining oil and vinegar and stir into the rice along with the tomatoes and chives. Season to taste and cover with foil to keep warm while cooking the fish.
Meanwhile, place the sea bass fillets under a preheated grill for 7-8 minutes until cooked throughout and serve with the rice salad.
Tilda Steamed White & Brown Basmati RRP £1.69 is available in Waitrose and Tesco from March.
The dry rice 500g version is available in Waitrose, Tesco and on Ocado.
Visit tilda.com for a selection of great-tasting recipes.