Yamaha makes so much sense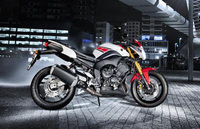 To create a much more affordable environment to help customers down this road, Yamaha provide the service you need to help you afford our very special bikes and scooters, from mopeds to 800cc sports machines.

Street Wise
Yamaha build some very strong middleweights, customers using these great machines for all kinds of uses - computing, touring or just that weekend ride, reliability and quality are very important for this sector. 'Street Wise' offers a highly competitive 3 Years' 0% finance with only a £99 deposit on 2010 and 2011 XJ-series models and FZ8/Fazer8 machines, including the 2012 Anniversary FZ8 – very cool!

No Excuses
Yamaha's selection of 125cc of motorcycles and scooters is extensive to say the least. Many current rider's started of the brand's smaller capacity bikes enjoying their 'big bikes in small packages' philosophy. Now with the choice of low rate finance at 4.9% over 36 months OR free/subsidised insurance for all 2011/12 models, including the top selling YBRs, YZF-125 through to the brand new Xenter 125, buying into Yamaha makes very good sense indeed, following many that have trod that path before and thoroughly enjoyed the experience. No Excuses.

Freedom Insured
Those customers that are looking for that little bit of independence we all want, can buy any new 2011/12 Yamaha moped with free or subsidised insurance. Low running costs and high MPG, if its freedom that's important, Yamaha will provide.

Yamaha have created a Finance Calculator on the website for all their promotions to illustrate how affordable the monthly payments could be for each promotion, so whether it's the sporty FZ8, the brand new Xenter 125 or a cool and economical 50cc moped, choose Yamaha - we will get you to a better place!