Saucy's Cod and Piri Piri fish dish - only 450 cals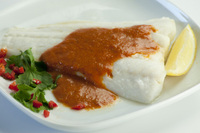 After indulging in fine Christmas food with all the glorious trimmings, food choices in January are often led by good intentions of kicking-starting the New Year in a healthier way.
Here, The Saucy Fish Co. Chef brings to you a low-cal lovely recipe, that proves maximum health does not need to mean minimum taste with Saucy's latest offering - Cod and Piri Piri.
From the fish and sauce range, found in the chiller aisle, the Cod Fillet with fiery Piri Piri Sauce is the perfect dish for cold January evenings.
Naturally low in fat, cod is a super lean fish that's meaty in texture and won't leave you feeling hungry moments after finishing your meal! What's more, spices are well known to stimulate digestion and even speed up metabolism, making the Piri Piri Sauce the perfect match to aid January's healthy intentions!
All products in The Saucy Fish Co's 18-strong range are traditionally made using techniques and all natural ingredients that you'd find at home. Pairing fresh cod with the tangy contrast of Piri Piri sauce provides a fuss free meal for two that tastes delicious.
RRP for Cod and Piri Piri is £4. The product is available in Tesco stores.
Cod Piri Piri with Spiced Couscous (Serves 2)
What's needed:
1 pack of The Saucy Fish Co. Cod and Piri Piri
1 tablespoon of olive oil
1 red onion finely chopped
½ of a red pepper, roughly chopped
½ of a yellow pepper, roughly chopped
1 clove of garlic, crushed
1 teaspoon of curry powder
1 lemon, juice & zest
200g of couscous
300ml vegetable stock, boiling
2 tablespoons of coriander, roughly chopped
Salt and pepper to season
Method:
Cook the cod following the guidelines on the pack.
Heat the olive oil in a pan on a medium heat, and add the red onion, red and yellow peppers, garlic and curry powder. Cook for 2-3 minutes until slightly softened.
Add the lemon juice and zest then stir in the couscous, mix well.
Add the boiling stock. And remove pan from the heat. Allow to stand for 5 minutes until all liquid has been absorbed.
For a light texture, break up the grains of couscous using a fork. Add chopped coriander and season with salt and cracked black pepper.
To serve simply make a bed of couscous, carefully place a cod fillet on top and drizzle over the piri piri sauce.
Approximately 450 cal per serving.
For more information, visit thesaucyfishco.com.