Guide to making sugar figures by Jan Clement-May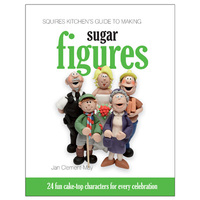 Where there's a celebration there's a cake! And what better way to decorate it than with fun and colourful figures made especially for the recipient.
Popular sugar artist, Jan Clement-May, shows you how easy it is to model and personalise figures in Sugar Dough using just a handful of basic tools. After explaining the essentials of modelling in sugar, she covers three popular subject matters - occupations, hobbies and celebrations - and presents an imaginative selection of figures within each chapter. So whether you're making a bride and groom for a wedding cake (complete with jolly vicar!), a cute baby boy or girl for a christening or baby's birthday, a cub scout or brownie for a children's party, or a cake for a sportsperson, this book is for you! Plus, if you're looking to make party bag treats, wedding favours or if you're simply short of time, there are quick and easy cupcake designs to accompany every figure.
Learn how to model 23 fun figures in sugar, great for decorating party cakes or for personalised edible gifts.
An enjoyable activity for modellers of all ages, perfect for keeping little hands busy.
Step-by-step instructions and full-colour photographs throughout.
Squires Kitchen's Guide to Making Sugar Figures by Jan Clement-May is published in March 2012 by B. Dutton Publishing Ltd., RRP £12.99. Available from bookshops and direct from the publisher at squires-shop.com.
ISBN 978-1-905113-32-3.