First UK Red Cube Kia showroom opens at Arnold Clark Northwich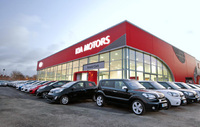 The first of Kia's new global standard Red Cube showrooms has opened at Arnold Clark Northwich in Cheshire – bringing a strong new design-led image to the brand's growing network.

The Red Cube concept has been created to deliver the most complete visual representation of Kia's design-focused brand strategy and whilst the new showrooms will only open at major new-build sites many of the concept's elements will soon be found at all Kia showrooms in the UK.

Built on an existing Arnold Clark four-acre site in a high-traffic location, the dramatic new-look showroom features strong red cladding, distinctive side-return architecture and a clean, impressive interior to give customers an even more professional and comfortable experience when they are either buying a new Kia or returning for after-sales service.

Simon Hetherington, Dealer Development Director at Kia Motors (UK) Ltd., said: "This is a dramatic new look for Kia across the globe and I am proud that the UK has one of the first such new showrooms to open in Europe. We do not expect all of our dealers to invest in such buildings, but many of the elements contained in Red Cube can already be found in about one third of our 170 UK dealerships and by the end of this year almost all of our dealers will have adopted our new brand identity.

"The Red Cube gives us real stand out at new build and landmark sites and I would expect another five or six such showrooms in the UK over the course of the next year," he added.

The Arnold Clark Northwich showroom took 16 weeks to build and is the group's eighth Kia dealership across the country.

Eddie Hawthorne, Managing Director of Arnold Clark Automobiles Ltd., said: "We are delighted with the new showroom and it is great to be the first in the UK to showcase Kia's new flagship Red Cube.

"We were very happy with the build process, we are very happy with its simple, practical but stunning style and I am sure it is going to really deliver for Arnold Clark," he added.