All aboard the onion gravy train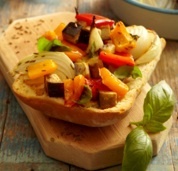 This will make your eyes water - Good Natured new Outstanding Onions are kitchen heroes, ideal for adding flavour to hundreds of dishes from around the world.
Grown using only natural predators (good bugs) to control pests (bad bugs) and disease, you can be sure that the range is grown in harmony with Mother Nature and free from pesticide residue.
A truly international ingredient, the onion is the most widely consumed vegetable around the globe. Low in calories and high in fibre, they are also believed to help fight off illness thanks to their antioxidant properties. To avoid tears, top chefs recommend running onions under cold water or splashing white vinegar on the chopping board when cutting up.
The onion is a staple ingredient in many cuisines: Mix sliced onions in a spiced batter and deep fry to make simple Indian onion bhajis; chop and chuck into any Oriental stir-fry; slowly sauté for a deliciously sweet French onion soup or slowly roast along with a selection of Mediterranean vegetables to create the perfect topping for an Italian bruschetta.
Grown in England, Good Natured Outstanding Onions sell at an RRP of £1.30 for a 750g bag from selected Asda stores nationwide.
Good Natured Roasted Vegetables on Bruschetta - serves 4
1 red Good Natured Perfect Pepper, deseeded and cut into chunks
1 yellow Good Natured Perfect Pepper, deseeded and cut into chunks
1 Good Natured Outstanding Onion, peeled and sliced into thin wedges
1 small Good Natured Awesome Aubergine, cut into small chunks
1 tsp cumin seeds
2 tbsp olive oil
1 ciabatta loaf
1 clove garlic, peeled
Small handful Good Natured Razzle Dazzle Basil leaves, torn
Preheat the oven to 200C/400F/Gas mark 6.
Place the chopped vegetables in a roasting tin with the cumin seeds and 1 tbsp of the olive oil and toss gently to coat with the oil. Roast for 20-25 minutes, until just starting to char at the edges.
Slice the ciabatta in half lengthways, then cut each piece in half again. Sprinkle with the remaining olive oil then bake in the oven for 8-10 minutes, until just golden. Rub each piece with the garlic clove.
Remove the vegetables from the oven and toss in the torn basil leaves.
Spoon the vegetables over the toasted bread and serve immediately, while still crisp.
The Good Natured range also includes Crunchy Carrots, Perfect Peppers, Awesome Aubergines, Tantalising Tomatoes, Cool Cucumber, Splendid Spuds, Neat New Potatoes, Razzle Dazzle Basil, Currylicious Coriander, Fantastic Flat Leaf Parsley, Ban-tastic Bananas, Brilliant Blueberries and Succulent Strawberries.
For further information, visit goodnaturedfruit.co.uk.