Ford's 1.0-litre EcoBoost turbo petrol engine debuts in all-new Focus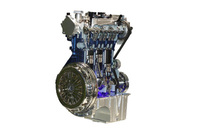 Ford's high tech, ultra-efficient, turbocharged, direct injection 1.0-litre EcoBoost engine goes on sale across the Ford Focus range in the UK next month. This unique, industry-first EcoBoost engine delivers performance to rival a traditional 1.6-litre engine with significantly improved fuel efficiency and class-leading ultra-low CO2 emissions.

The 1.0-litre, three-cylinder EcoBoost engine is available with two power levels – in the five-door Focus at 125PS it delivers a combined fuel economy of 56.5mpg and low petrol CO2 emissions of 114g/km (a level unmatched by Focus competitors with similar power outputs), while the 100PS version delivers a combined fuel economy of 58.9mpg and outright best-in-class petrol CO2 emissions of 109g/km.

Around 200 UK engineers based at Dunton and Dagenham successfully developed a powertrain which not only leads on fuel economy but also delivers the refined and spirited driving performance that customers have come to expect from Ford.

Though the 1.0-litre EcoBoost cylinder block can fit onto a sheet of A4 paper it delivers up to 125PS and 170Nm peak torque (200Nm with overboost) between 1,400 and 4,500rpm, giving it the highest power density of any Ford production engine to date.

Graham Hoare, European executive powertrain director based at Dunton, said: "This is the third addition to our acclaimed EcoBoost engine family. Joining the 1.6-litre and 2.0-litre EcoBoost engines which span 150PS to 240PS, this 1.0-litre EcoBoost signals a new era of downsized, super frugal engines for the sub-130PS segment. During development our UK engineers focused onimproving thermal efficiency and reducing friction of the engine's internal moving parts, especially during warm-up."

Customer savings

In addition to the customer benefits resulting from improved fuel consumption and petrol being up to 10p per litre cheaper than diesel, the lower CO2 emissions translate into direct customer savings. The 100PS and 125PS version will both qualify for zero vehicle excise duty in the first year and then £20 (100PS) and £30 (125PS) per annum thereafter. Compared with the current 1.6-litre 105PS and 125PS engines, this represents savings of £115 in year one and £95 and £85 respectively in subsequent years.

Company car drivers will see attractive benefit-in-kind rates of only 13 per cent in 2012/2013 equating to savings on a Focus Zetec of up to £32 per month at the 40 per cent tax level versus the current 1.6-litre 105 and 125PS engines.

Mark Ovenden, Ford Britain managing director, said: "Gone are the days when the number of cylinders dictates performance. This highly efficient, technically advanced powertrain is not only great fun to drive, but it delivers fuel economy improvements and ultra-low CO2 emissions which lead to real world cost savings for our customers."

New Ford Focus range is priced from £13,995 on the road. The latest price list, effective 22 February 2012, introducing Focus with the 1.0-litre EcoBoost engine, is attached. This engine is priced £250 (on the road) above the 1.6-litre 125PS engine and will subsequently feature in Ford C-MAX, Grand C-MAX and all-new Ford B-MAX later this year.