Wine tasting tours in the home of Meteorito Wine, Chile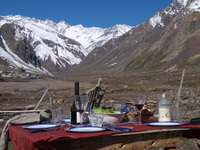 Come and taste wine in the home of Meteorito - the first wine believed to be aged with a 4.5 billion-year-old meteorite, and the latest buzz in the wine industry. Situated within an hour's drive of the Tremonte Vineyard in central Chile, Tumuñan Lodge offers exclusive wine tasting tours with the creator of this stellar Cabernet Sauvignon, Ian Hutcheon, along with many other excursions in the Colchagua Valley.
Featured in Wine Enthusiast Magazine's 10 Best Wine Travel Destinations 2012 (February issue), the Colchagua Valley is famous not only for its vineyards, but was also a favourite haunt of Charles Darwin, and home to 120 million year old fossilised dinosaur footprints, volcanoes, glaciers, waterfalls and condors.
Friends of Meteorito's creator, Tumuñan Lodge offers guests from all over the world a year round retreat and the rare opportunity to explore an untouched part of Chile, only 2 hours away from Santiago. This family-run mountain haven caters for those in need of rest and relaxation, to the more adventurous travellers who can enjoy days of hiking, horse-riding and fly fishing in the unrivalled Chilean countryside.
Exclusive tours of the Tremonte Vineyard, hosted by the owner, can be arranged on request.
For room rates and more details on other excursions offered by Tumuñan Lodge, visit tumunanlodge.com.