A tasty wild Alaska pollock dish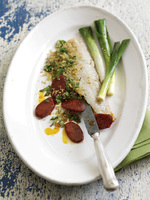 Start the New Year in a sustainable way with new recipes from Alaska Seafood! This tasty wild Alaska pollock dish with spicy Spanish chorizo and sweet, buttered baby leeks is both delicious and wonderfully simple to make. First, fry pollock fillets and leeks in butter and chorizo in hot oil, then serve with lemon and parsely breadcrumbs and a drizzle of chorizo oil. Delicious, natural and sustainable!
Sustainable Alaska pollock is a great eco-conscious seafood choice and available frozen all year round. Alaska's long-term dedication to sustainability began over 50 years ago in the State constitution and has ensured continuous, wild and healthy harvests, and guaranteed that stocks of superior seafood are preserved for future generations.
Alaska's most abundant seafood species, genuine Alaska pollock is a lean, mild and tender member of the cod family. Swimming freely in the icy waters of the North Pacific Ocean, they feed on natural marine life. Wild Alaska pollock is low in fat and a natural source of protein, vitamins, calcium and Omega-3 oils, and can be eaten as part of a balanced diet.
Alaska pollock is easy to prepare and the most versatile of all whitefish varieties, and great value for money too! You can also find ready-prepared wild Alaska pollock fish fingers in the ranges of your favourite fish finger brands.
Pan-fried wild Alaska pollock with crunchy lemon and parsley breadcrumbs, chorizo and buttered baby leeks
Serves 4
25g butter
4 x 150-200g Alaska pollock fillets, seasoned with salt and pepper
8 baby leeks, trimmed
1 tbsp olive oil
100g chorizo, sliced
1 lemon
Salt and black pepper
Breadcrumbs:
4 tbsp olive oil
1 clove garlic, crushed
60g dry white breadcrumbs
Finely grated zest of 2 lemons
1 tbsp chopped parsley
To make the breadcrumbs, heat the olive oil in a frying pan and add the garlic. Cook until the garlic just starts to colour and then add in the breadcrumbs and lemon zest. Remove from the heat
Melt the butter and add the pollock fillets. Cook for 2 minutes a side. Add the leeks half way through
At the same time, fry the chorizo slices in 1 tbsp hot oil for 1-2 minutes, reserve the oil
Reheat the breadcrumbs if they have cooled and then stir in the chopped parsley
Serve the pollock fillets with a spoonful of breadcrumbs, baby leeks, chorizo, a drizzle of chorizo oil and a squeeze of lemon juice
For more information, visit alaskaseafood-neurope.com.