Parma Ham and Caramelised Red Onion Valentine's Tart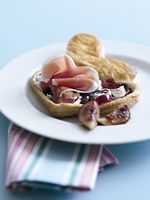 Treat your special someone this Valentine's Day with this recipe from Parma Ham. These adorable heart-shaped pastry cases filled with Parma Ham are fantastically easy to make and deliciously romantic. Simply cut two heart shapes out of puff pastry and bake in the oven until beginning to brown. Add caramelised red onions, chunks of feta cheese and fresh rosemary, and serve with balsamic figs and delicious, sweet Parma Ham. The perfect way to show your love on February 14th!
Parma Ham is a completely natural food with nothing added except salt. Making a Parma Ham is a long and painstaking process. The curing is controlled carefully so that the ham absorbs only enough salt to preserve it to retain its distinctive sweet flavour.
Prosciutto di Parma is produced in the hills surrounding the Italian town of Parma. The air is unique, dry and sweet-smelling with breezes from the Apennine Mountains, creating perfect environmental conditions for a natural "drying" of the hams.
The unique taste of Parma Ham is dependent on the traditional production process passed down from Roman times, carefully controlled by the Consorzio del Prosciutto di Parma. Only hams that have passed stringent curing regulations approved by the EU can be awarded the stamp of the Ducal crown – a five pointed coronet logo with PARMA in the centre which is branded onto the ham's skin. The Ducal Crown is now a certification trademark.