Lynx introduce new fragrance for girls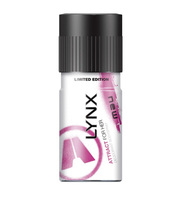 Lynx, the brand famed for giving guys the edge in the mating game, is set to bring chaos to the UK by giving the Lynx effect to women as well. Today, Lynx can reveal that for the first time in its history its latest fragrance, Lynx Attract, will be available both 'For Him' and 'For Her'.
The TV advert for Lynx Attract For Him and For Her, which breaks in the UK on 1st February, sees guys and girls who are wearing the fragrance causing chaos and accidents in a series of situations because they're so intensely attracted to each other.
There are concerns that the New Lynx Attract fragrances are packed with such irresistible scents that men and women throughout the UK will not be able to keep their hands off each other. The scents are reportedly so seductive they will bring the opposite sexes together creating chaos in everyday life.
Kieran Danaher, Lynx Brand Manager at Unilever UK, said: "This is a historic moment for Lynx as a brand. For the first time in our 27 year history we are launching a male and female fragrance at the same time. Lynx Attract will unleash the full power of the 'Lynx Effect' for both sexes and make the mating game doubly exciting."
Following the phenomenal success of recent fragrances launched, including Lynx Excite and Lynx 2012 The Final Edition, Danaher believes Lynx Attract can really take things to the next level.
"As a brand we're aiming to push boundaries with creative marketing campaigns this year, and the launch of Lynx Attract is set to do just that and more. With both these scents being so seductive we're warning guys and girls about the potential chaos in everyday life."
The mating game has just evolved. Nothing will ever be the same again.
New Lynx Attract For Him and For Her - Unleash the Chaos
Visit facebook.com/lynxeffectuk for more information.