Save time and money with part exchange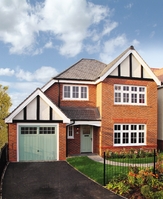 Award-winning housebuilder Redrow will take care of your estate agent's fees and ensure a guaranteed cash buyer, giving you complete piece of mind.

Part exchange is the hassle-free way to sell your current house and pave the way to a brand new home. Swapping your existing property for a brand new home is a quick, stress-free and appealing solution for movers who are struggling to find a buyer.

After a Redrow Part Exchange evaluation of your existing property you could receive an offer from Redrow within 48 hours so you can move virtually straight away, without the worry of lengthy chains.

Part exchange is available on selected Redrow homes at all developments in the South West, as long as the value of your property is worth a minimum 35% less than your chosen home.

Caroline Martin from Willow Brook in Devizes, Wiltshire said "Part exchange was a great help for us as it took away the stress and worry about whether or not our house would sell, especially in the current market."
Mrs Martin added; "The whole experience has been brilliant, and I love the style of our Chester house, the living space is fantastic and has all the lovely traditional features but with modern day living quality, which we find really appealing. As we lived locally it was also really exciting to see the house being built."
Clare Jennings from Bagley Green in Wellington, Somerset said "We were extremely impressed with the support we received from Redrow. The most stressful part was that our move date was actually moved forward! The after care we've received has also been brilliant, the Redrow staff have been keen to check that we have settled in."

Nikki Boulton, area sales manager for Redrow Homes (South West), said: "Those with an existing property to sell can benefit greatly from part-exchange. Redrow acts effectively as a cash buyer so the customer can relax in the knowledge that they won't find themselves stuck in a housing chain that's going nowhere or lose their buyer at the eleventh hour. We also take care of marketing their existing home so they save on Estate Agent fees too."

Redrow has a beautiful range of homes in some fantastic locations across the South West. All homes feature Redrow's latest interior specification. The emphasis is on open-plan living spaces with contemporary modern kitchens, including floor to ceiling units and top brand name appliances. Modern bathroom suites and spacious living accommodation all built to a high specification, ideal from both families and busy professionals.

For further information, visit redrow.co.uk.