Can Film Festival gets students recycling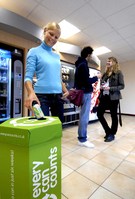 Students, lecturers and staff at universities across the country have been given an opportunity to watch films for free by simply bringing along empty drinks cans to be recycled. The initiative, aptly titled the Can Film Festival, has been developed by out-of-home recycling programme Every Can Counts and kicks off today as part of Go Green Week (6th -11th February).
Now in its third successful year, the Can Film Festival aims to raise awareness of the recyclability of drinks cans and encourage more students and young people to do the right thing with their empties. To gain free entry to film screenings, students simply have to bring at least two cans. As every part of every can is infinitely recyclable without loss of quality, a recycled drinks can could be back on shelves as another can in just six weeks.
Although launching today, the Can Film Festival is open throughout the academic year to any university or college keen to get involved. Participating campuses have access to Every Can Counts recycling containers, and free posters and promotional materials to help encourage both staff and students to swap their empties for entry.
Rick Hindley of Every Can Counts commented: "Of the 9.4 billion drinks cans sold in the UK every year, around half still end up in landfill sites, wasting precious resources and energy, as well as contributing to rising CO2 levels. By running a Can Film Festival universities and colleges can communicate the value of these cans and encourage people to think again when they're choosing what to do with their empties."
To date, there are over 4000 Every Can Counts collection points across the UK – at tourist attractions, music festivals, shopping centres and workplaces. In 2010, the programme helped recycle over 27 million drinks cans.
For more information about setting up a drinks can recycling scheme in your university or college, visit everycancounts.co.uk/canfilmfestival.