Wild Alaska pollock and prawn pancakes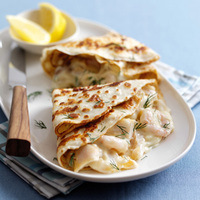 This Shrove Tuesday, add a twist to your normal pancake recipe by making these scrumptious savoury Pollock pancakes. Simply add flakes of wild Alaska pollock, prawns and dill, parsley or thyme to a creamy cheese sauce. Spoon into homemade pancakes and sprinkle with freshly chopped herbs before serving. Sustainable and delicious, you can't get batter than that!
Sustainable Alaska pollock is a great eco-conscious seafood choice and available frozen all year round. Alaska's long-term dedication to sustainability began over 50 years ago in the State constitution and has ensured continuous, wild and healthy harvests, and guaranteed that stocks of superior seafood are preserved for future generations.
Alaska's most abundant seafood species, genuine Alaska pollock is a lean, mild and tender member of the cod family. Swimming freely in the icy waters of the North Pacific Ocean, they feed on natural marine life. Wild Alaska pollock is low in fat and a natural source of protein, vitamins, calcium and Omega-3 oils, and can be eaten as part of a balanced diet.
Alaska pollock is easy to prepare and the most versatile of all whitefish varieties, and great value for money too! You can also find ready-prepared wild Alaska pollock fish fingers in the ranges of your favourite fish finger brands.
Wild Alaska pollock and prawn pancakes
Serves 4
400g (14oz) fillets wild Alaska pollock
Pancakes:
100g (4oz) plain flour
Pinch of salt
1 medium egg
300ml (½pt) milk
Vegetable oil
Sauce:
300ml (½pt) skimmed milk
40g (1½oz) butter
40g (1½oz) plain flour
100g (4oz) mature Cheddar cheese, grated
75g (3oz) cooked peeled prawns, thawed if frozen
1 tbsp fresh dill, parsley or chives, chopped
Salt and freshly ground black pepper
Lemon wedges, to serve
Put the pollock into a frying pan and cover with water. Heat and simmer for 5 or 6 minutes until the fish is cooked – the flesh should be opaque and flake easily. Drain and cool, then flake into large chunks. Set aside.
To make the pancakes, put the flour into a mixing bowl with the salt, egg and milk. Beat together with a whisk to make a smooth batter. Heat a heavy-based frying pan and add a few drops of vegetable oil. Make 8 small pancakes with the batter. Keep in a warm place.
To make the sauce, put the milk, butter and flour into a non-stick saucepan. Heat, stirring constantly with a small whisk until smooth and thickened. Add the cheese and stir until melted. Add the pollock, prawns and herbs and heat gently for a few moments. Season and use to fill the pancakes. Sprinkle with a few chopped herbs and serve immediately with lemon wedges.
Cook's tip: If you want to prepare ahead, arrange the filled pancakes in a large greased baking dish. Cover with foil and refrigerate. Re-heat at 180°C, fan oven 160°C, gas mark 4 for 25-30 minutes, until thoroughly heated.