Zookeepers make their nest at Harbour Village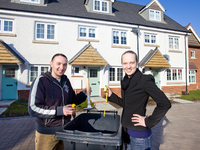 Zookeepers Sofie Haugaard and Khaled Fawzy have made a nest of their own in a brand new Redrow home at Harbour Village in Fleetwood.
Sofie looks after the elephants and big cats at Blackpool Zoo, while Khaled trains the sealions and wild birds. The couple wanted a home where they could start a 'pride' of their own and with HomeBuy Direct, they found their money could go further and they were able to buy a brand new three-bedroom home.
Sofie explained: "In five years together we've lived in three rented properties and wanted to buy a home of our own before we get married in March. We heard about the Redrow homes at Harbour Village and went to view the show homes.
"We wanted a home where we could grow as a family rather than have to move. A big attraction was that HomeBuy Direct was available and we were amazed by the amount of space we could get for the price. We were so impressed that we reserved a three-bedroom Kenilworth, similar to one of the show homes, the same day."
Thanks to HomeBuy Direct they were able to take out an equity loan for up to 30% of the purchase price of their new home, helping to make their money go further. This loan is interest free for the first five years and can be repaid when the home owner has more funds available or comes to resell.
"I always wanted a new build, not somewhere that would have to be done up. A lot of properties in the area within our budget needed work doing to them or were smaller," Sofie commented.
"We were surprised at how high the specification was for the price. We thought things like the AEG kitchen appliances would be extra, not included as standard. One of the most enjoyable aspects was being able to choose things like the finish of the kitchen cabinets and work surfaces. Having a downstairs cloakroom and en-suite to master bedroom in addition to the family bathroom is a real luxury too."
Those who want to take advantage of HomeBuy Direct must hurry as the valuable help is only available until the end of March. Redrow's friendly, experienced sales team and the HomeBuy agent will guide purchasers through the buying process making it as simple and straight forward as possible.
"We're both first time buyers and thought buying a home would be difficult, confusing and a lot to get our heads around, but Karen guided us through the home buying process step by step. She helped make it really easy and was always there to offer a helping hand," Sofie added.
"We've had such a good experience that we've recommended Redrow to friends and family."
With funding under HomeBuy Direct about to run out, Redrow will still be able to help make homeownership more affordable with its own 'easi:buy' scheme. The incentive offers customers the chance to defer paying 20% of the price of a brand new home.
It means a two-bedroom apartment, usually costing £114,995, could be snapped up for an initial outlay of £91,996.
For further information, visit redrow.co.uk.