Enjoy Michelin star cuisine in Val d'Isère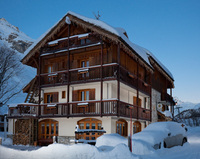 If the current superb snow conditions aren't enough to tempt you to the slopes this winter then perhaps the gourmet delights awaiting you in the French ski resort of Val d'Isère will prove irresistible. With delightful mountain restaurants aplenty and a resort bursting with fantastic eateries, it's little wonder that Val d'Isère is held in such high regard among gourmands, be they skiers or not. Diners can expect world-class, Michelin star standard cuisine in a small but perfectly formed selection of very special restaurants. There will also be monthly cooking classes and a wine tasting evening in the coming months this season.
Situated at the bottom of the Fornet-Pissaillas run, 2km from Val d'Isère village centre, L'Atelier d'Edmond oozes rustic Alpine charm. There's a large, sunny terrace to enjoy during the day and by night diners are cosseted in cosy, wood-panelled rooms, many recreating themes of mountain life such as a mountain refuge and joinery workshop.
Chef Benoit Vidal (awarded a Michelin star for his restaurant 'Mas des Herbes Blanches' in Joucas) will be cooking at L'Atelier d'Edmond throughout the winter season. Chef Vidal, who worked at L'Atelier d'Edmond from 2001-2, will be channelling his passion for gastronomic cuisine into a healthy lunch-time menu and degustation menus by night. Sample dishes from his degustation menu include roasted roe-deer with black pepper, softened vanilla grains and 'pêle mêle' of squash; and crispy chocolate with mushroom, like 'Belle Hélène'. Chef Vidal will also be sharing some of his culinary know-how with two exclusive cookery lessons on Sunday 26th February and Sunday 11th March 2012. A wine tasting evening will also be held on Wednesday 21st March.
More Michelin star magic can be enjoyed at Le Brussel's restaurant in the heart of the village of Val d'Isère, situated at the base of the ski runs and lifts with stunning views up to the snowy peaks. Famous French chef, Jacques Pourcel is bringing his culinary skills to Le Brussel's this winter. Awarded two Michelin stars for the restaurant he runs with his brother Laurent, 'Le Jardin des Sens' in Montpellier, Pourcel will be offering luxury brasserie cuisine at lunch time and a gourmet menu in the restaurant in the evening. Le Brussel's is the ideal spot to enjoy a sunny lunch between runs boasting a huge sun-soaked terrace with large sofas to collapse upon, rest weary limbs and soak up magical mountain views. In the evening, step inside the cosy restaurant with its open fire and enjoy decor that is both stylish and typically Savoyard. Le Brussel's offers a superb wine list to complement Pourcel's delicious cuisine.
La Becca is now officially one of the finest restaurants in Savoy, having been bestowed one Michelin star in 2011, and has completed a refurbishment of the restaurant interior and terrace to celebrate such a prestigious award. Local Chef Antony Tempesta transformed the local family restaurant into an unmissable stopping point for lunching skiers and evening gourmet-lovers alike, with his popular locally influenced cuisine. La Becca is located right at the heart of nature in the charming Laisinant hamlet at the gateway to the Vanoise National Park.
For further information and bookings, visit valdisere.com.