New Swallows and Amazons adventure in Antigua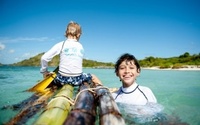 Family sailing resort, Nonsuch Bay, has launched a new adventure, allowing children to have their very own Swallows and Amazons adventure in the warmth of Antigua.
During the Easter and summer holidays, children between the ages of five and twelve, will be able to spend a day on their very own Wild Cat Island, exploring and learning the lessons of island life.
Young guests will be taken by boat to an uninhabited island by Nonsuch Bay Resort's experienced childcare staff. Once there, the children learn to build a fort using flotsam found on the island, followed by a hunt for the island's buried treasure.
To escape any pirates that may appear, the Swallows and Amazons will be taught to build a log raft using the dry flower stem of the cactus found on the island.
Nonsuch Bay will offer the adventure free to young adventurers staying at the resort for a week. A packed lunch will be included.
Nonsuch Bay has 62 luxury apartments built around a secluded beach and 18 luxury waterfront and hilltop villas. The interiors are spacious and light with hardwood floors, white walls and contemporary furniture. The large living areas and fully equipped kitchens are ideal for families. They open on to oversized verandas with views of the bay. The resort also features a restaurant and three infinity pools as well as offering spa treatments.
Guests can book sailing as an inclusive package or pay by day or half day in resort. The inclusive sailing package allows as much sailing as they want. Children from the age of eight can join one of Nonsuch Bay's courses at beginner or intermediate level. Younger children can join in with supervised shore and water based activities including snorkeling, swimming, rock painting, arts and crafts and pool games. A nanny service is also available, which allows children to be cared for in their apartment and in the creche.
Nonsuch Bay's fleet of sailboats comprises a modern range of dinghies supplemented by Hobie Club 15 beach catamarans. The fleet also has 24 foot RS Elite keelboats offering the stability and security of a yacht.
A one week stay at Nonsuch Bay Resort costs from £590 per person staying in a two bedroom apartment based on a family of four sharing including unlimited sailing. The price includes airport transfers, but not international flights.
For further information, visit nonsuchbayresort.com.