Viking Cruises to gold on River Douro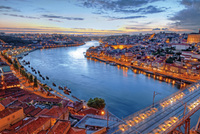 Following demand from customers to create a new river cruise holiday along Portugal's River Douro, Viking River Cruises is thrilled to launch its new itinerary for 2013: River Douro, Portugal's River of Gold.
Named 'River of Gold' for its striking quality of light, Portugal's Douro River winds its way through steeply terraced vineyards, rolling landscapes and pretty towns with colourful castles, baroque mansions and historic monasteries.
Viking guests will visit vibrant Porto, the medieval Spanish city of Salamanca and enjoy a two-night superior first class hotel stay in Lisbon, with excursions within the capital, including a tour of the 15th century Jerónimos Monastery.
Along the way, guests can indulge in delicious cuisine including Portugese specialities and the region's famous port and tawny wines.
An exciting new itinerary calls for an exciting ship. The Viking Douro was built specifically to sail this scenic river. Spacious and supremely comfortable with panoramic views, large staterooms with French balconies and 360 degree views from the public areas, guests can sit back and relax as they immerse themselves in the glorious scenery.
With visits to UNESCO World Heritage sites, all excursions, on board meals and wine with lunch and dinner included in the price, this holiday – like all Viking river cruises – offers remarkable value.
Wendy Atkin-Smith, Managing Director of Viking River Cruises UK Limited comments: "We are really excited to yet again put our customers at the heart of everything we do and launch this brand new route. The Douro is truly breathtaking and offers such a wide range of scenery as it meanders through incredible valleys, past ancient vineyards and into bustling Portuguese towns brimming with culture."
Wendy continues "2012 is set to be an exciting year for us with the launch of six new Viking Longships. It is great to carry the excitement into 2013 when the Viking Douro will take our passengers along the Douro River in Portugal for the very first time."
The Douro cruise is available for booking now at vikingrivercruises.co.uk.