Look up - Big sky experiences in Alberta, Canada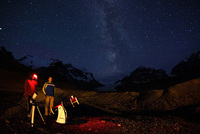 The big skies of Alberta offer a range of activities to be enjoyed - from star gazing in the World's Largest Dark Sky Preserve, Jasper National Park, to dancing Northern Lights in Alberta North and a plethora of heli-opportunities across the Province including heli-yoga.
Star Gazing at its best:
The Royal Astronomical Society of Canada (RASC) officially designated Jasper National Park as a Dark Sky Preserve in 2011. At 11,228km2, Jasper is the largest Dark Sky Preserve in the world, and the only preserve in Canada with a town wholly within the preserve.
Dark Sky Preserve areas are designated by the RASC to regions that promote responsible lighting, offer public observation sites for quality night sky viewing, and have active and engaging public outreach programs about astronomy and responsible lighting. 97% of Jasper National Park's area is a designated wilderness area, free of light pollution, yet roads and trails provide easy access to excellent year-round star gazing sites. jasperdarksky.org.
Parks Canada and Tourism Jasper celebrated this designation with the first annual Jasper Dark Sky Festival from October 21st - 24th, 2011. With star gazing opportunities, evening interpretive hikes, presentations by astronomers, themed dining experiences, the festival was a great success and is expected to grow for the festival in 2012 (12th -14th October). jasperdarkskyfest.com.
A seven night break in Jasper costs from £1050 per person with Canadian Affair. This includes return Economy Class flights with Air Transat from Gatwick, Manchester or Glasgow to Calgary, seven days intermediate car rental and seven night's accommodation at the 3-star Best Western Jasper Inn & Suites (room only, twin share). Based on departure dates between 7th and 21st June, 2012. For information and reservations, visit canadianaffair.com.
Heli-activities abound:
Some say it is the one of the must-do activities in the Canadian Rockies and an unbelievable way to experience the spectacular breathtaking beauty of the mountain peaks and turquoise lakes. Travelling by helicopter allows visitors to experience remote rivers, formidable glaciers and high alpine meadows. Either take an aerial tour or have the helicopter touchdown and enjoy a range of activities in a remote wilderness that would otherwise be unreachable. Adventures include heli-skiing, heli-snowshoeing or heli-dogsledding in the winter and in the summer heli-hiking is exceedingly popular or experience heli-yoga with Martha's Heli-Hikes.
Martha moved to the Rockies after finding that yoga in this pristine environment was simply out of this world. Visitors are asked to slow their pace, calm their mind, stretch their body and inhale fresh mountain air. Day and three-day packages are available which include gourmet lunches and dinners, hatha yoga classes with panoramic views, hiking with a qualified hiking instructor and for the three day package, camping overnight in the mountains. marthashelihikes.com.
There are a range of heli-tours available across the Province; Kananaskis Heli-tours have this winter introduced an introductory heli-tour that is very popular with families with small children - six minutes in the air per person costs £42 (C$69). Or for something different there's the Champagne Snow Picnic - great for weddings and proposals, as well as a heli-dogsledding package. Or to discover the hoodoos and fascinating landscape in Alberta South take a trip with Mountain View Helicopters. For more details on heli-adventures in Alberta visit travelalberta.com.
Northern Lights:
It's a good time to head to Alberta North; sunspot activity is rising, with the Solar Max peaking in 2013. This means the Northern Lights or Aurora Borealis are already stunning and will continue to be so.
In addition to seeing the Northern Lights, in Alberta's North, visitors can learn the tricks needed in order to be able to photograph this natural phenomenon, discover what makes the night sky blaze with colour, hear old legends and lore of what the Northern Lights mean to different communities and even enjoy a northern lights dogsledding adventure.
Best experienced from autumn through to spring, Newmarket Holidays have recently launched a new package to showcase the Aurora Borealis opportunities in Alberta. This nine day package allows guests to enjoy the Canadian Rockies including Banff, Lake Louise, Jasper and the city of Edmonton before venturing up to Fort McMurray for the northern lights experience where there will be an on-site photographer and astronomer to explain about this out of this world phenomenon.
Prices start from £1,299 per person for this nine day adventure in Alberta and include return flights from London Gatwick, accommodation, activities and the coaching tour. Price based on two people sharing and for departure on 14th November 2012. Subject to availability. For further details visit newmarketholidays.co.uk.