Parma-Maple Breakfast Pancakes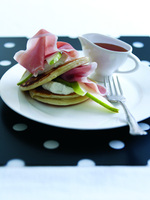 This Shrove Tuesday, start the day in style with these scrumptious Parma-Maple Breakfast Pancakes. Simply layer fresh, homemade pancakes with delicious Parma Ham slices, conference pear and ricotta cheese then finish with a generous drizzle of Maple syrup. Buon appetito!
Parma Ham is a completely natural food with nothing added except salt. Making a Parma Ham is a long and painstaking process. The curing is controlled carefully so that the ham absorbs only enough salt to preserve it to retain its distinctive sweet flavour.
Prosciutto di Parma is produced in the hills surrounding the Italian town of Parma. The air is unique, dry and sweet-smelling with breezes from the Apennine Mountains, creating perfect environmental conditions for a natural "drying" of the hams.
The unique taste of Parma Ham is dependent on the traditional production process passed down from Roman times, carefully controlled by the Consorzio del Prosciutto di Parma. Only hams that have passed stringent curing regulations approved by the EU can be awarded the stamp of the Ducal crown - a five pointed coronet logo with PARMA in the centre which is branded onto the ham's skin. The Ducal Crown is now a certification trademark.
Parma-Maple Breakfast Pancakes
Serves 6
For 12 homemade pancakes:
150g self raising flour
1 tsp baking powder
pinch salt
1 tablespoon caster sugar
1 large egg, lightly beaten
1 x 250g tub Ricotta cheese
2 ripe conference pears
12 slices Parma Ham
Maple syrup, to drizzle
150ml (5 fl oz) milk
2 tbsp melted butter
A few drops of vegetable oil, to grease
First make the pancakes. Sift together the flour, baking powder, salt and sugar into a mixing bowl. Add the egg, milk and melted butter, and whisk together. Leave to stand for 15 minutes.
Place a non-stick frying pan over a medium heat and add a knob of butter to coat the surface of the pan. Drop tablespoons of the pancake batter into the pan and flip over after a couple of minutes, when tiny bubbles start to appear on the batter surface. Leave the pancakes over the heat for a further 1-2 minutes, until both sides are golden brown. Repeat this process until you have 12 medium-sized pancakes.
Layer the pancakes on to six serving plates with ricotta cheese, sliced pear and Parma Ham. Finish with a final slice of Parma Ham and a generous drizzle of Maple syrup.
Cook's tip: Why not experiment with different combinations of filling for your morning pancakes, try peaches or mango, or even drizzle with runny honey instead of Maple syrup. You can always buy Scotch pancakes to save time, don't worry - we won't tell!