Discover the Russian Far East - Vodka, volcanoes & brown bears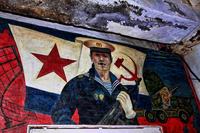 Limited opportunity remains for modern day adventurers to join like-minded travellers on an Orion Expedition Cruises' Russian Far East voyage to the land of ice and fire. During two voyages in 2012, departing 31st May and 10th June, guests will explore places as yet untouched by tourism from the comfort and security of the expedition cruise ship, Orion II, their base camp for the voyage.

Evocative names such as the Zhupanova River, Skaly Lavushky, Yankitcha and Petropavlovsk set the scene. Places that - until recently - remained off limits to the West today still see just a mere trickle of adventurous tourists.

Extraordinary experiences will be etched on guests' minds forever: entering the Wagnerian-like Valley of the Geysers, 200 steaming thermal vents from hell, in a Russian military-style helicopter; or, while exploring an abandoned Soviet air base, complete with half tracks and anti aircraft guns, stumbling across a chillingly familiar Iron Curtain image, Lenin, painted on a stone wall.

For some, photographing the prolific wildlife in bird colonies and seal rookeries scattered along the remote coastline, watching a brown bear hunting for salmon or the drama of sighting a pod of orcas, will be the highlight.

Orion II's specialist expedition team and specialist lecturers will enhance the time spent exploring this fascinating region of snow capped mountains and active volcanoes, wildlife, abandoned military bases and traditional onion-dome churches.
Orion's 10-night Russian Far East voyage departs Otaru on 31st May 2012 and visits Korsakov, Urup Island, Chirpoy Island, Yankicha Island, Matua Island, Skaly Lavushky, Atlasov Island, Shumshu Island, Vestnik Bay and the Zhupanova River before finishing with an overnight in Petropavlovsk.
Orion's 10-night Russian Far East voyage departing 10th June is the same itinerary but in reverse.
Prices start from £5,615 per person including ten nights onboard Orion II, all meals, entertainment and educational programmes, use of the ship's sporting equipment and facilities, Zodiac excursions, port and handling charges, tender transfers and government fees and taxes.
For further information and reservations visit orionexpeditions.com.