Kia launches global blog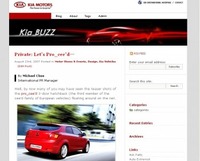 Kia Motors Corporation (KMC) has launched its official global blog, Kia BUZZ (kia-buzz.com), to bring it closer to its customers, industry opinion leaders and car enthusiasts through online dialogue with a wide range of Kia experts from across the organization.
With approximately 80% of Kia's sales taking place in overseas markets, the blog will cater to an international audience by delivering all content in English, and it is the first of its kind by a Korean company. The site will carry the views of a broad range of Kia employees from departments including design production, environmental management, product planning, marketing, after sales service as well as contributions from top level management. It will feature discussions on a number of topics about the company – its products, industry trends and upcoming events.
"The Kia BUZZ blog will open up previously untapped direct lines of communication between our company, our customers and our partners throughout the world," said Mr. Yong-Mo Ahn, Executive Vice-President, Overseas Marketing Division. "Our vehicles are fresh and dynamic, and appeal to a customer demographic more likely to frequently use new media tools like blogs. This is an innovative way through which real voices from throughout our organization can reach new audiences with information about Kia Motors, our expertise, products, services and initiatives."