Celebrate the Diamond Jubilee in Western Australia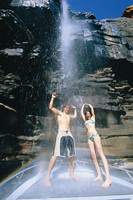 Her Majesty Queen Elizabeth II's Diamond Jubilee gives our holiday allowance a boost this year, with an additional day off. And where better to go to celebrate a diamond anniversary than Western Australia, famous for extraordinary landscapes and precious gems, including Australia's biggest pink diamond which was unearthed this week.
Estimated to be worth at least £7 million, the 12.76 carat stone, found by Rio Tinto at its Argyle mine in the Kimberley, in North West Australia, has been named the Argyle Pink Jubilee. It is said to be similar in colour to The Williamson Pink - the diamond Queen Elizabeth II received as a wedding gift and set into a brooch for her coronation.
A Rio Tinto spokesman said 90 per cent of the pink diamonds in the world come from the Argyle mine but the new gem was "unprecedented". "It has taken 26 years of Argyle production to unearth this stone and we may never see one like this again," said Argyle Pink Diamonds Manager Josephine Johnson. The stone will be polished and cut in Perth over the next ten days and then sold later this year after being shown around the world.
Here is how you can add a little sparkle to your holiday:
Take a scenic flight to see the Argyle Diamond Mine, where the Argyle Pink Jubilee was found. Departing from Kununurra the flight first takes you over the orange and black stripped formations of the World Heritage Listed Purnululu National Park (Bungle Bungle Range). From the air a hidden world of gorges and pools is revealed, before arriving at one of the largest operating diamond mines in the world. Enjoy a guided tour of the site and the chance to buy your own gem. Prices from $629 per person. slingair.com.au
Western Australia might be blessed with diamonds found deep in the Kimberley rock, but there are also some to be found glinting in the sands near Broome. In 1942 a Royal Dutch East India Airlines DC-3 was shot down by Japanese fighters over Carnot Bay. The plane contained a cargo of diamonds with a value of AU$300,000 (equivalent to roughly £13m in today's money). Only a few were ever recovered. All the more reason to pack a bucket and spade when you visit. Stay at a former pearling residence to complete the indulgent feel. McAlpine House has just eight rooms surrounded by lush tropical gardens, from $120 per room per night mcalpinehouse.com.au
Spend a day cruising the Kimberley's waterways on the 13 metre ocean-going Diamond Lass. Based at Faraway Bay, you can explore over 280 kilometres of raw wilderness where the rusty red outback meets a turquoise ocean. Spot crocodiles, sea turtles, Irrawaddy dolphins, whales, dugongs, manta rays. A 3 day/3 night package at Faraway Bay including cruises on Diamond Lass is from $3,620 per person. farawaybay.com.au
Along with Her Majesty Queen Elizabeth II, The Perth International Arts Festival is also celebrating its Diamond Jubilee this year. From now until 3 March there will be up to 17 performances a day in the city including street performance, ballet in an open-air amphitheatre and live music in the new festival gardens. Leading names, such as Germaine Greer, Bon Iver and Ryan Adams are sure to make this a truly memorable anniversary for the arts.
Feast like a Queen at the Pan Pacific Hotel in Perth. Following October's royal visit by Queen Elizabeth II and Prince Philip to Western Australia, the Pan Pacific is now serving the official menu enjoyed by the royal couple. The Royals were in Perth for the CHOGM Queens Banquet Dinner. Now visitors can enjoy the six courses of culinary decadence including crispy skinned Broome barramundi fillet and lamb with fondant potato, confit garlic, crisp celeriac and shallot puree. The banquet was created by the hotel's team of head chefs in conjunction with the Royal Palace and approved by Queen Elizabeth II herself. Prices from A$95 (approx £62) per person. panpacific.com
WEXAS Travel has a Kimberley Complete itinerary from £5,860 per person (based on two sharing) including international flights, 4x4 transport, a guided walk through Purnululu National Park and a helicopter flight over Mitchell Falls and 12 nights' accommodation with selected meals.